Free Roulette Game Selection
Best Roulette Casino
LuckyLand Slots
Welcome offer
100% bonus up to $4000 + free spins.
Casino Explorer
CJ's guide to Roulette: How To Play
Roulette is the super famous casino game consisting of a wheel featuring black and red pockets. Bets are placed on the table and a little ball is released, spinning round the wheel until eventually landing in a pocket. The number on the corresponding pocket wins the bet. Sounds simple? It is! But you can mix up your bets, play a number of different versions and choose your own lucky numbers and betting style if you wish. Let's take a look at the main bet types available.
There are many different variations of the classic roulette wheel. Some offer different odds, different bet limits and even bonus multipliers!
For better odds pick European over American. Check out my guide to help you decide, or just pick a game and try it out for free!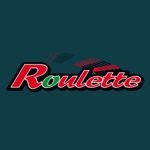 Betting Options
On the table of a standard European Roulette wheel you'll find 3 columns containing 12 numbers corresponding to the numbers on the wheel. Above the columns you'll see a 0 or 0 and double zero. The columns are also divided into 3 sections 1st 12, 2nd 12, 3rd 12. Outside the columns you'll see the words "odd" and "even" plus a black diamond and a red diamond. And also 1 to 18 and 19 to 36.
Depending on your game type you might also have a racetrack featuring bets labelled "tier", "orphelins" and "voisins du zero"
Each of the betting options corresponds to an outcome and has a different payout attached.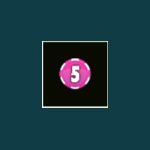 Straight Up
This is a bet on any single number, including 0. This bet offers the highest return but also the highest risk.
Payout = 35:1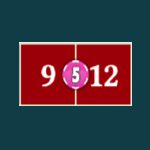 Split
You can place a chip on two numbers next to each other. Your chip will be placed on the line that separates the two numbers.
Payout = 17:1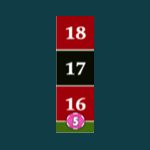 Street
Otherwise known as an inside bet it covers 3 numbers running horizontally across the grid. So placing the bet on the outside line only overlapping number 16 will cover numbers 16, 17, 18.
Payout = 11:1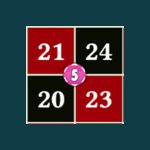 Corner/square
A bet on 4 numbers. You can put your chip anywhere where 4 numbers intersect so effectively betting a quarter of a straight up bet.
Payout = 8:1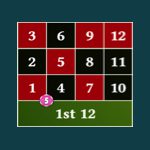 Line
This bet covers 6 numbers placed on the external edge of the grid. So for example placing your chip on the outside line between 1 and 4 will bet on the number touching this line (in this example, numbers 1, 4, 2, 5, 3 and 6 on a European wheel)
Payout = 5:1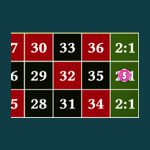 Column
You have a choice of 3 columns that cover the long lengths of the grid.
Payout = 2:1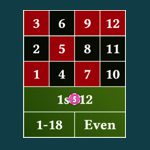 Dozen
These are either the 1st, 2nd or 3rd 12 numbers. 1st is 1 through to 12, 2nd dozen is 13 through to 24, 3rd dozen is 25 through to 36.
Payout = 2:1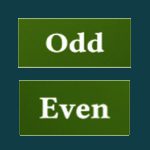 Even/Odd
You can choose to bet on even numbers (e.g.: 2, 4, 6, 8 etc) or odd numbers (1, 3, 5, 7 etc)
Payout = 1:1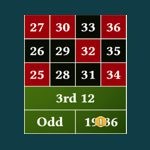 High/Low
These are the "1 to 18" or "19 to 36" bets.
Payout = 1:1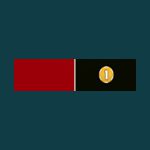 Red/Black
These are the red and black rectangles or diamonds on the table. You're betting on the outcome to be either a red number or a black number. The minimum bet for this is usually $1 or 5 times higher than the minimum stake on a straight up bet.
Payout 1:1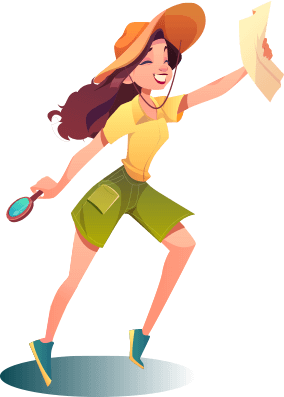 Jungle Top Tips!
Look out for French roulette wheels offering La Partage rules. This means on even money bets you'll get half your money back if the ball lands on zero, reducing the house edge from 2.7% to 1.35%
You'll often find features online to keep the pace going in your gameplay. For example "rebet" button or "double" button which will re-bet your stakes at twice the value.
FAQs
Why should I play European Roulette instead of American Roulette?
The odds are better for the player on European Roulette than on American Roulette. This is because American Roulette has a double zero pocket which increases the house edge from 2.7% to 5.6% which is pretty terrible odds for you, the willing punter. Don't help casinos take your money, be smart and play at tables with odds more in your favour.
What's the best betting strategy to win at roulette?
Let's get real here; casinos make money. If there was a simple strategy to win, everyone would be doing it and the casinos would be broke. Cast an eye over the Las Vegas strip, those casinos certainly don't look broke to me! "Strategies" do not work in the long run since they require potentially huge risks to your wallet.
For example, doubling up your bet every time you lose – otherwise referred to as the Martin Gale strategy. Sounds reasonable. You start on a $10 bet, on red or black. You lose so the next round you bet $20. Since you will receive your stake back when you win, if you win this second game you'll win $20, plus your stake so you'll be $10 in profit. But let's say that you don't win, and actually you lose 8 games in a row. On the premise of doubling up every lost round, your 8th bet value would have been $1,280. See how quickly the stake value escalates? If your bank roll is $1,000 you've already gone bust using this strategy. Let's assume you had the bankroll available, you continued with the betting strategy and you won on your 9th bet, so you bet $2,560 and you win $2,560. Your total profit for those 9 bets is only $10.
Honestly the best strategy is to keep a cool head, decide beforehand what your betting limits are and stop and cash out when you reach your target win.
What types of roulette games are there?
Nowadays players are spoiled for choice when it comes to roulette variations. European Roulette, Mini Roulette, American Roulette, Multi-ball Roulette, Multi-Wheel Roulette, Live Casino offers some very cool versions with immersive camera angles, bonuses, football bets and Lightning numbers offering up to x500 times your stake. Click here to take a look at Evolution's Live Roulette games. You'll also find various table limits such as 20cents Roulette and VIP Roulette.
Can you bet on red and black?
Yes! You can bet on both red and black but you're still not guaranteed a win since there is always the zero, so if you play for long enough you will eat through your bank roll. Also, it's not going to be a lot of fun to play just cancelling out your bet every time.
What's the most I can win on roulette?
The biggest payout is on a straight up bet. If you bet on a single number and it lands, you'll win 35:1. In other words if you bet $20 you'll win $700