Biggest movers in casino stocks and shares 2021
As more people stayed at home in 2021, online gambling has grown in popularity. The pandemic has had a direct and significant impact on the stock price of some major entertainment and resort. We assess key movers and shakers in casino stocks and shares prices this past year.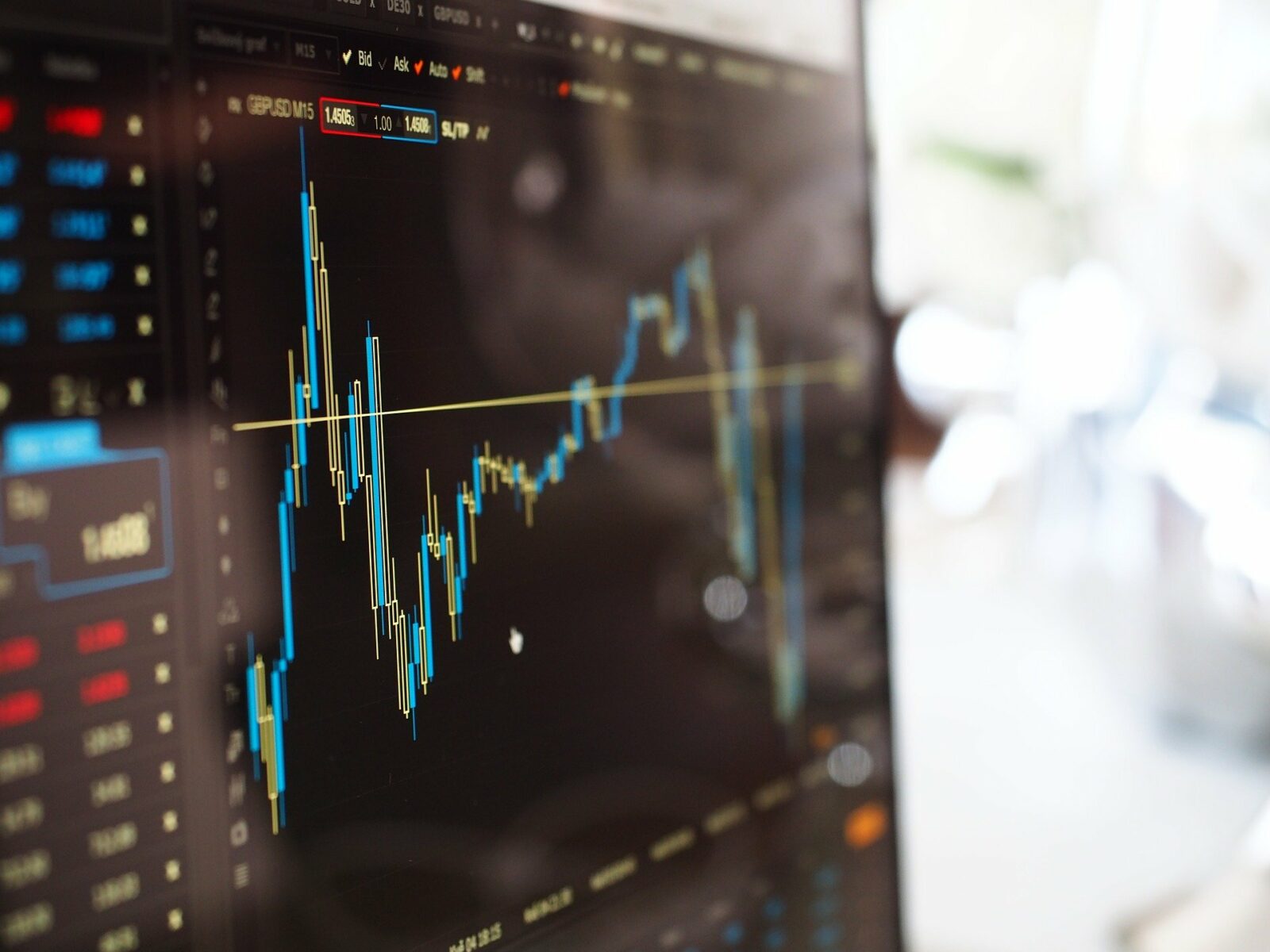 The casino industry is a subset of the larger gaming industry, which includes leisure and resort properties as well as casino gaming. Casinos, hotels, luxury resorts, ski resorts, and racetracks are all owned and operated by companies in this industry. Companies active in online gaming are also included in this category. Consequently there has been lot of movement in casino stocks in the last year. Las Vegas Sands Corporation, Wynn Resorts Ltd and MGM Resorts International are all well-known casino operators. Many organizations with physical casinos saw severe quarterly revenue and earnings losses in 2020 as a result of the COVID-19 pandemic.
Following that, in the first half of 2021, there was a steady recovery, although revenue remained below pre-pandemic levels. As more people stayed at home during this time, online gambling grew in popularity. Despite vaccine rollouts and recovering economies, coronavirus continues to hamper recovery.
The top three casino stocks with the best value, the fastest growth, and the most momentum are as follows;
Casino Stocks and shares with the Best Returns
These are the casino stocks with the lowest price-to-earnings ratios over the last 12 months. A low P/E ratio indicates that you're paying less for each dollar of profit generated because earnings can be returned to shareholders via dividends and buybacks.

Golden Entertainment Inc. is a gaming organization that offers a variety of services. It runs resorts and casinos, as well as bars and pubs and syndicated gaming.
Boyd Casino Corp. owns and runs gaming establishments across the United States. On its premises, it also has entertainment, dining, shopping, and recreational facilities.
Bally's Corporation: Bally's owns and operates hotels that also offer casinos, shopping outlets, sports bars, pubs and restaurants. A horse racetrack is also owned and managed by the company. Telescope Inc., a developer of real-time audience engagement solutions for live events, gamified screen experiences, and interactive livestreams, was acquired by Bally's in mid-August. The transaction's financial specifics were not disclosed.
Casino Stocks with the Fastest Growth
These are the top casino stocks, according to a growth model that evaluates firms based on a 50/50 weighting of their most recent quarterly year-over-year percentage revenue increase and earnings-per-share (EPS) increase. Sales and earnings are both crucial factors in a company's success. As a result, looking at organizations based on just one growth indicator can mean accounting irregularities (changes in tax law or restructuring charges for example) that may render the figure non – representative of the company as a whole. Outliers were companies with a quarterly EPS or revenue growth of more than 2,500 percent.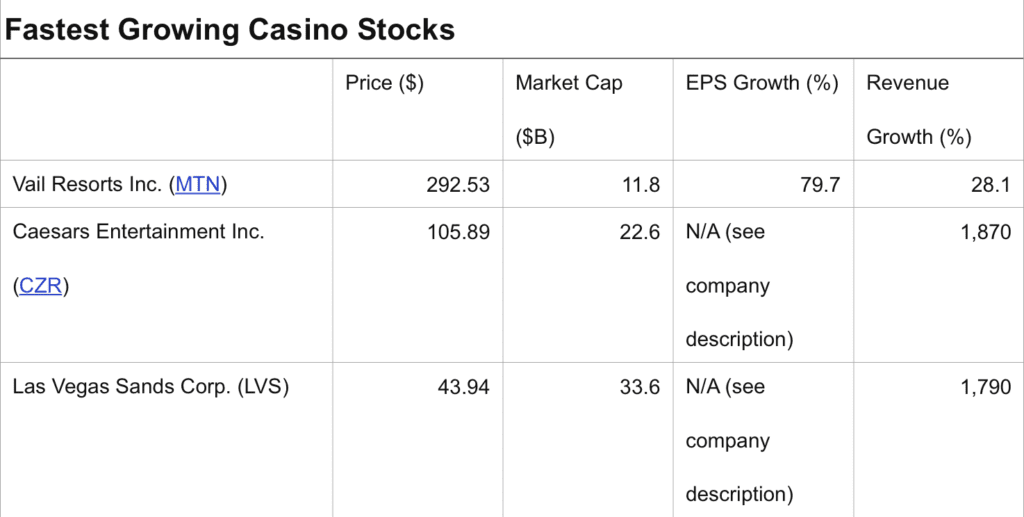 Vail Resorts
Vail Resorts Inc. is a company that owns and runs mountain resorts and urban ski areas in the United States and other countries. Ski mountain resorts, destination resorts with apres-ski activities, family-oriented mountain resorts and year-round family holiday destinations are among the company's properties. In August, the firm announced that Chief Marketing Officer (CMO) Kirsten Lynch had been named CEO and elected to the board of directors to start in November 2021.  Rob Katz, the company's CEO, will take on the role of executive chairperson of the board and will continue to play an important role in the company's strategic decisions and priorities.
Caesars Entertainment
Caesars Entertainment Inc. is a company that owns and maintains a chain of resorts across the United States. It has a casino, poker room, roulette tables, and other gambling activities. Food and beverage services are also provided by the company. Caesars Entertainment recently announced that it had reached an agreement with 888 Holdings PLC to sell the non-U.S. assets of sports betting and casino brand William Hill for $3.0 billion. The deal should be completed within the first quarter of 2022. An EPS growth rate could not be calculated for the table above since the company's EPS went from negative to positive in the most recent quarter.
Las Vegas Sands
Las Vegas Sands Corp. is a casino and convention center owner and operator in the United States, Macau, and Singapore. Gaming, entertainment, hotels, and expositions are all offered by the company. Because Las Vegas Sands recorded a net loss per share in the most recent quarter, an EPS growth rate for the table above could not be determined.
The Most Volatile Casino Stocks
The casino stocks with the highest total return over the last 12 months are listed below.

Golden Entertainment Inc: see above for information on the company
Red Rock Resorts Inc. is a privately held company in Las Vegas, Nevada. They are a company that specializes in gaming, development, and management. It owns and operates casino and entertainment properties such as restaurants, movie theaters and bowling alleys among other things. In late July, they released financial figures for the second quarter of its fiscal year. Red Rock Resorts earned $86.7 million in net income attributable to shareholders. This is a significant improvement over the year-ago quarter's net loss of $71.5 million. The quarter's net revenue increased by 294.7 percent.