Can an animal predict the World Cup Winners?
In the age of science and statistics, using animals to predict the future seems quaint. However, many of these predictions made by members of the animal kingdom have been astonishingly accurate. So we ask the question; can an animal really predict the World Cup winners?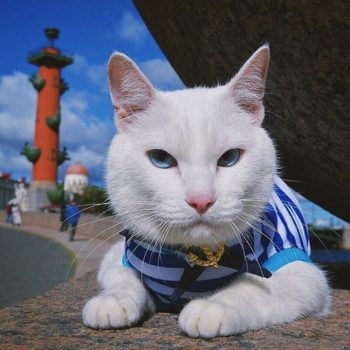 Punxsutawney Phil, America's famous weather-forecasting woodchuck, predicted a lengthy winter for 2021.  Chuck, his Staten Island equivalent, expected Spring to start early. Did you know there were other animal predictors that people turn to? There are animals out there believed by some to be able to predict everything from environmental disasters to Super Bowl winners.
In the age of complex and sophisticated statistics and real-time weather updates, using animals to predict the future seems quaint. Many of these predictions have been astonishingly accurate however with some even having a basis in science. 
Here are some that have gained attention for sports betting predictions. 
Paul the Octopus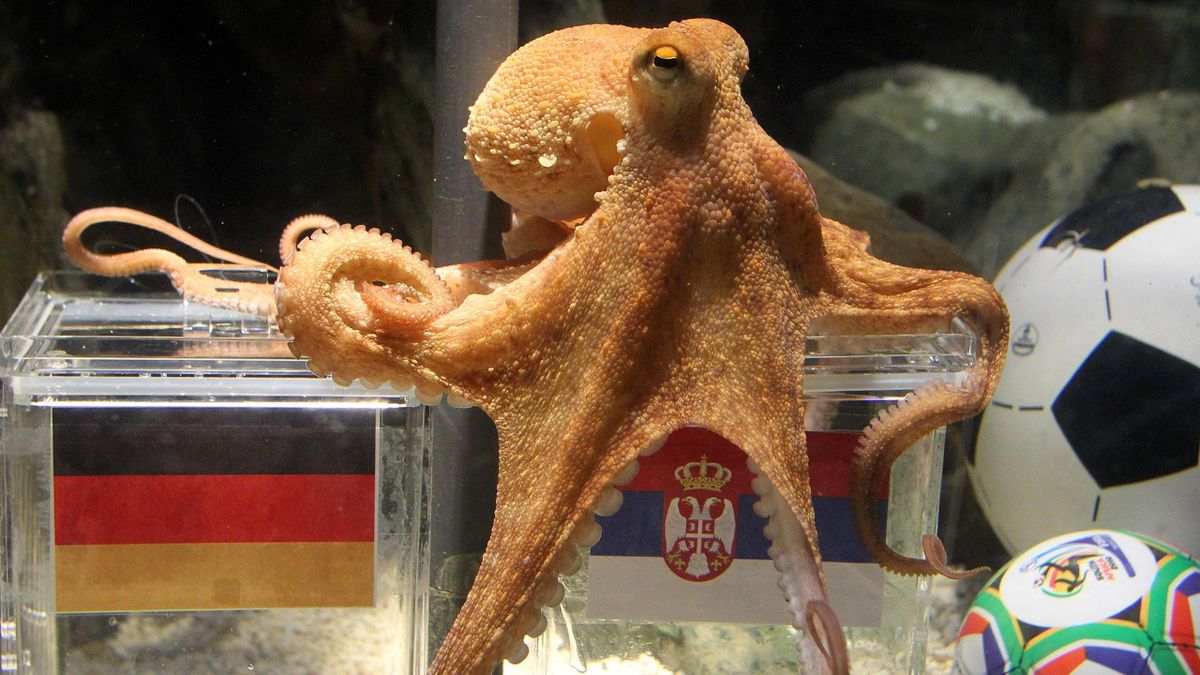 Paul the Octopus is a legend when it comes to soccer predictions. From his fish tank in Germany, this clairvoyant octopus correctly predicted the outcome of an incredible eight sports events, including the 2010 World Cup, during his brief existence. Paul the Octopus signaled his choices by choosing a mussel from containers allocated to each of the rival nations. Regrettably, the mystical cephalopod made enemies of some German fans, who threatened to boil him for accurately picking Spain who beat them in the final. 
Ava the Parrot
A parrot named Ava correctly guessed that the England team would beat Denmark in 2020's Euros semi-final.
She actually has a track record of accurately predicting game outcomes, having done so three times beforehand. After correctly predicting that England would defeat Germany and Switzerland would defeat France in this week's game she started to draw some attention. She even predicted England's rout over Ukraine on Saturday last year.
Eva's test consists of her choosing from bowls of bird seed placed in front of each team's flag. She then  guesses which team will win based on the dish she chooses to eat from.
Eva was considered to be a highly intelligent bird, but her owners never knew she had a gift for predicting football results.
She's not the only parrot famous for their clairvoyant skills. In a test to see which stocks would provide the most returns Polly from South Korea surpassed most professional speculators. Polly's return on investment was a whopping 13.7 percent, besting all but two of the ten humans, who lost an average of 4.6 percent.
Achilles the cat
The official results predictor for the 2018 World Cup in Russia was Achilles, a deaf white cat.
Achilles, a resident of St. Petersburg's famous Hermitage museum, made his first prediction correctly predicting that Russia would beat Saudi Arabia in the tournament's opening game.
Achilles, like Paul, predicted the future by choosing between two pots of food labelled with a country's flag. His credentials were based on his great performance in Russia's Confederation Cup in which he correctly predicted three out of four games, including the final.
Achilles was offered two food dishes during a televised event in St. Petersburg today, and after some deliberation, he chose the home team. Achilles was clad in the Russian national team's uniform after being chosen.
Marcus the mystic pig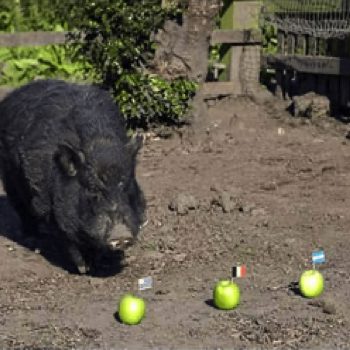 Marcus was an eight-year-old black micro pig who was apparently able to forecast sports results by picking one of two apples placed in front of him. 
He performed this sorcery by selecting an apple allocated to a team. Whichever one he chose was the winner.
Mystic Marcus had apparently never ever been incorrect in his predictions of important sporting events which included Wimbledon and the football World Cup. The procedure of selecting apples for Marcus to choose from was very scientific. For the sake of accuracy it was ensured that the apples were identical in terms of variety, colour and size.
Marcus had already predicted England's victory over Colombia in a live piece on television show This Morning. Live on the show, Mystic Marcus boosted the nation's confidence by confirming his forecast that England would defeat Croatia in the World Cup 2018 semi-final.
Unfortunately, Marcus' prediction proved to be incorrect, as England lost a heartbreaking match in Russia against Croatia.
Rabio the Octopus
The day before Japan's World Cup opener against Colombia, an octopus was found near Obira, a town in Hokkaido. Kimio Abe, a 51-year-old fisherman, named him Rabio and put him to work right away. Abe divided a kiddie pool and placed the teams' flags in two different sections with a third area for a tie. Rabio forecast the match's outcome by moving to the Japan section. Japan went on to beat Columbia. 
Rabio wasn't finished yet though. He also predicted that Japan would draw with Senegal and then lose to Poland, achieving an impressive three correct predictions.
Ok, cute stories but can animals really predict the World Cup winners?
Scientists are not convinced by the phenomenon however and have offered explanations as to what is happening. There has been no research into it and no scientifically rigorous tests have been conducted. 
Cats, for example, like people have a side-bias. That may explain why Achilles the cat might have chosen a certain bowl because he prefers the side it's on rather than because he favors the sports team it represents.
Achilles could also have been reading the body language of others around him. People claimed that a horse named Clever Hans could do math in the early 1900s. Hans always got the right answer when a human gave him an addition or subtraction problem. However when the person concealed themselves behind a barrier Hans began to make mistakes.
The horse, it turns out, was picking up on minor clues from the human, such as a slight lean or an enthusiastic expression. Similarly, Achilles may have been influenced by positive reactions from his trainers or sports fans while deciding which dish to eat from. 
Cats can tell the difference between quantities. Trainers may have unintentionally put more food in one dish than another, and Achilles may have been eating from the bowl that had more food in it.
The examples above showcase some European major football tournaments. And there's no reason at all an animal couldn't predict the World Cup winners in 2022! But we suggest that if you do let your four legged, feathered or scaled friend pick a winner; don't get mad if they get it wrong.