Esports Betting in Canada – Play at the best esports betting sites
When it comes to esports betting, Canada is becoming the place to be. With sites opening far and wide, esports betting is becoming easier, safer, and more fun! So, whether you're a seasoned gamer looking to spice up your esports viewing, or someone who's never heard of esports but wants an alternative market to take a punt on, we've got everything you need to know about the world of online esports betting.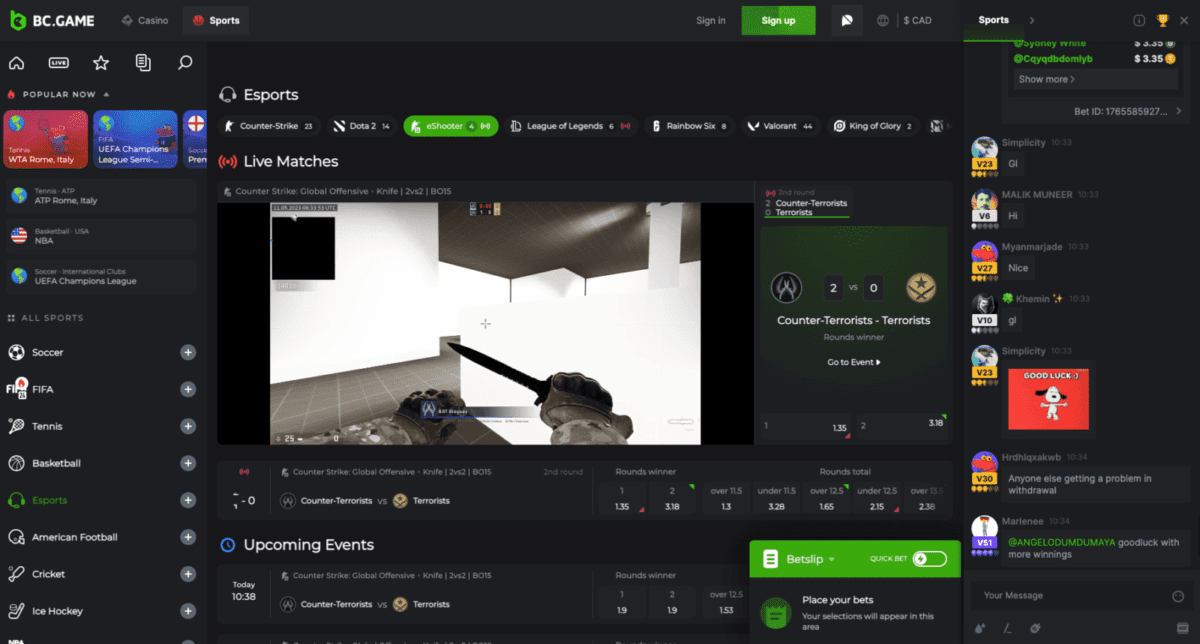 An overview of esports betting in Canada
Firstly, for those uninitiated, what are esports?
Well, an esport is a video game played in a competitive fashion. Players get paid by the game company, sponsored by organisations, and win prize money, and the games are livestreamed to thousands via sites like Twitch or YouTube.
Many viewers have a favourite team or athlete and follow them, much like regular sports. And, also like regular sports, many viewers enjoy taking a punt on the action. Sports betting is a practice as old as time, and with the emerging popularity of esports, esports betting is sure to follow suit!
Is esports betting legal in Canada?
Keeping our readers in the know is what we do at Casinos Jungle, and knowing what is legal and what isn't is of the utmost importance when it comes to online betting sites and the legality of online esports betting. In Canada, provided you are of legal age to do so, online betting is perfectly legal.
Each province has the authority to determine the legality of betting within the province, and currently only Ontario has its own regulatory body. If you're looking to place bets in Ontario, you'll need to find a casino that offers its services there legally.
Esports Betting Canada – Esports to Bet On
There's a huge range of popular esports markets to check out, with it being easiest to explain by genre. There are MOBAs, shooters, sports games, strategy games, and many more. CSGO and LoL are two of the most popular video games of all times, and both have decent sized esports betting markets behind them, but are also completely different games to each other.
MOBAs
MOBAs, or multiplayer online battle arenas, are team games where the aim of the game is to infiltrate the opponent's base and destroy it. Teams use strategy and skill to take objectives and gain an advantage.
The most popular examples of this type of game are probably League of Legends, DOTA 2, and Smite. Each of these also have esports betting related to the games, so be sure to check out those markets.
Shooters
Most people that have ever touched a games console will have heard of Call of Duty, and anyone that's ever played a PC game will probably know about CS:GO, the kings of the online shooters.
These high adrenaline games require a little less in-depth knowledge to understand than the MOBAs, but offer a different type of entertainment, with events all year round and teams in constant competition to be the best they can be.
Esports betting sites offer betting markets for shooter games like these, and you can take a punt on a wide range of options, which we'll get into later.
Sports
Games like FIFA, or soon to be known as EA sports FC, also have a betting scene, and a very popular one at that. It's not quite like sports betting, but it's pretty close!
You can bet on match result, who will win, and many other markets. Betting sites are pretty good at offering a wide range of bets, and with sports games there's always something to take a punt on.
There are other games that esports betting sites have available, but these are far and away the most popular markets that esports betting is built on.
Types of esports betting markets available
Now that we've discussed the types of games you can bet on, we can dive into more detail on the betting side of things, which is what you're here for after all.
Esports betting will vary depending on the type of game you're betting on. For games like CS:GO, outside of the standard outright winner markets, you can bet on who's going to win a certain map. LoL allows you to bet on which team will secure the first kill of the game, and FIFA allows you to bet on first scorer.
Much like regular sports betting, you can bet on fantasy esports. These are virtually ran and are pretty much just a roll of the dice, but offer an alternative way to try out esports betting if you're into it.
These are just some examples of unique bets for you might encounter when esports betting. Each site will offer their own markets too, and that's part of the fun! Finding an online casino that offers the types of bets you want to make is what we're here for, so why let's discuss some of the popular options that are out there…
Canada's favourite esports betting options
For Canadian players, there's a wealth of esports betting sites ready to take your custom. From the best Welcome Bonuses to having a huge range of esports betting markets available, Canadian players are in a great position when it comes to esports betting.
So, without further ado and in no particular order, here are our picks for betting sites in Canada:
BC.Game
With a unique Welcome Bonus, varied betting markets, casino games, and sports betting, BC.Game is a great place for Canadian players looking to get into esports betting.
They're officially partnered with Cloud9, one of the biggest esports organisations, as well as the Argentine football association. Check out our in-depth review here to find out more!
GG.Bet
Specialising in Esports betting, GG.Bet offer a ridiculous amount of esports bets. From Fortnite to Starcraft and beyond, GG.Bet is one of the biggest esports betting platforms around, and are certainly worth checking out.
888 Sports
888 Sports offer a lot of fun esports markets, as well as having some great promotions available to players from Canada. They've got a vibrant art style and a welcome bonus to make your money go further!
Rivalry
Last but certainly not least, Rivalry.com specialises in esports betting, and players at this casino have access to all manner of esports bets. There's a huge range of games to choose from, as well as in play betting and live odds.
Of course, there are many, many more options for Canadian players to choose from. These are just some we've found that are tried and trusted. But, if you're looking to branch out on your own and find a sports betting site by yourself, what should you be on the lookout for?
Live Betting
Many of the best esports betting sites offer live betting, where the esports betting odds can change depending on what's happening in the match. Since accessing and watching live esports is free 99% of the time, players can watch the action and get involved with placing live bets as the game plays out in front of their very own eyes.
The favourites to win this map taking a beating? You see an underdog showing signs of a comeback? Live betting allows you to place bets mid game on these outcomes, and is a great way of mixing up the traditional sports betting formula.
What to consider when choosing a betting site
Esports betting has largely been an unregulated practice until recent years, with Ontario recently becoming the first province to offer licensed gaming officially. So, how can you trust betting sites, and what do you need to know to have a great esports betting experience?
Licensing is a big one. Be sure to check up on a casino's licenses, with licenses from the UKGC and MGA being highly reputable, to name just a couple. This isn't to say that other licenses aren't, and betting sites these days are generally pretty good at being open and honest, but it's certainly worth keeping in mind when looking for a betting site to try.
Which Canadian esports teams can you bet on?
Now for some national pride! Esports games are often played by teams from the same region. This cuts down on language barriers, cultural differences, and even increased ping when the teams practice or when it comes to game day.
So, are there any Canadian esports teams or individuals doing well at the top of the game? Let's take a look!
Luminosity Gaming
This Toronto-based gaming org competes in esports such as Apex Legends, Rocket League, Rainbow Six Siege, PUBG, Splitgate, and more. They have experienced success and are considered one of North America's biggest gaming organisations. If you're looking for a team to support or bet on with some good old fashioned Canadian backing, look no further than Luminosity!
Twistzz
Not a team this time, but an individual. Russel David Kevin Van Dulken, better known as "Twistzz" is well known for his CS:GO success. With a bunch of accolades to his name including the 2022 Antwerp Major, Twistzz is one of the most succesful to ever play the game, and he's Canadian to boot! He currently plays for Faze Clan, who you can take a punt on at any esports betting site.
Payment methods you can use for esports betting
This one comes down to the casino itself generally, and not something we can guarantee as it can change from betting site to betting site. However, what we can do is point you in the general direction and highlight some of the most common payment methods available.
Online betting sites tend to allow credit and debit cards, ewallets, vouchers, and many even allow cryptocurrency. Crypto casinos are becoming more and more popular, and betting on esports with cryptocurrency is a pretty commonplace practice in 2023.
Esports Betting in Canada – Conclusion
For Canadian players, esports betting has never been easier! As an up and coming market, esports betting is exploding on the scene and the casinos are scrambling to match the demand.
If you want to get involved in the action, find a site you want to try out, and make an esports betting account. Many betting sites will provide welcome offers and the like to ensure your money goes as far as possible, and enable esports fans to enjoy betting on esports to their heart's content!
Want to try esports betting for real? Check out our top esports betting sites.