Experience the Thrills of LTC Casino $15,000 Online Slot Tournament
Welcome to the heart-pounding world of LTC's $15,000 monthly online slot tournament, where excitement knows no bounds! Divided into four exhilarating stages, this tournament offers players a shot at greatness like never before. Every Friday at 00:00 UTC the winners of the previous round are announced and a brand-new stage is launched at the same time. This dynamic format not only boosts your chances of scoring massive wins but also gives you much more flexibility and freedom than traditional pooled monthly slot tournaments.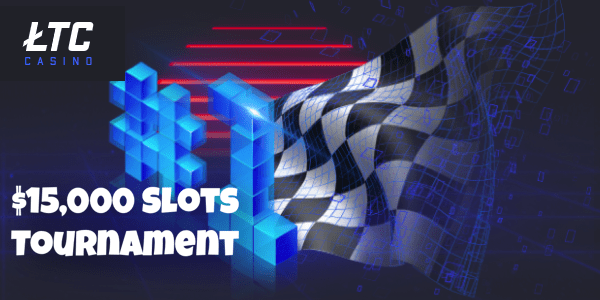 The following article promotes slots tournaments at LTC casino. To take part you will need a real money funded account.
Say goodbye to rigid schedules! The LTC slots tournament lets you march towards victory at your own pace throughout the week. Whenever the mood strikes, you can seize the opportunity to climb the ranks and secure your spot among the champions.
Brace yourself for an amazing prize pool of 3,500 USDT and a staggering 5,000 free spins, all up for grabs! These tantalizing rewards await the top 200 players who dominate the slots during the week-long LTC Casino slots tournament. Here's the thrilling part – there's no limit to the bets you can place during the tourney.
Prizes are credited promptly, which is great. The moment a stage concludes, your hard-earned prizes are automatically credited. You then have a two-day window to claim your well-deserved spoils and an additional seven days to fulfill any wagering requirements. As for the nitty-gritty details, cash prizes come with a x3 wagering requirement, while free spins are subject to a x10 wagering requirement. These free spins are a ticket to the realm of BGaming's Alien Fruits slot – a gaming experience like no other.
The $15,000 Online Slot Tournament isn't just a game; it's an adventure, a quest for glory, and a chance to bask in the glow of victory.
Playing in The LTC Slot Tournament
Taking part in the slot tournament is a breeze for all registered players at LTC Casino. Simply play any of the participating slot games offered  at LTC Casino. Games include Big Bang The Universe, Aztec Magic Megaways, Payday Pig, Gold Rush Johnny Cash Hold and Win, Jackpot Mega Lucky 576, Big Wild Buffalo, and many more. There's absolutely no additional entry fee required. Every player is automatically entered into the tournament without the need for an opt-in process.
Your journey to triumph is closely linked to your wagering. The higher your bets, the higher your position on the leaderboard, and the more enticing your potential rewards become. A vital note: remember that only real bets will contribute to your ranking in the tournament.
Witness your progress unfold on the leaderboard, where player nicknames, standings, and corresponding prizes are vividly showcased. But here's the catch: the race remains ongoing, granting you the chance to elevate your position through strategic bets. Yet, keep an eye out, as the active participants might also surge ahead, nudging you back in the rankings.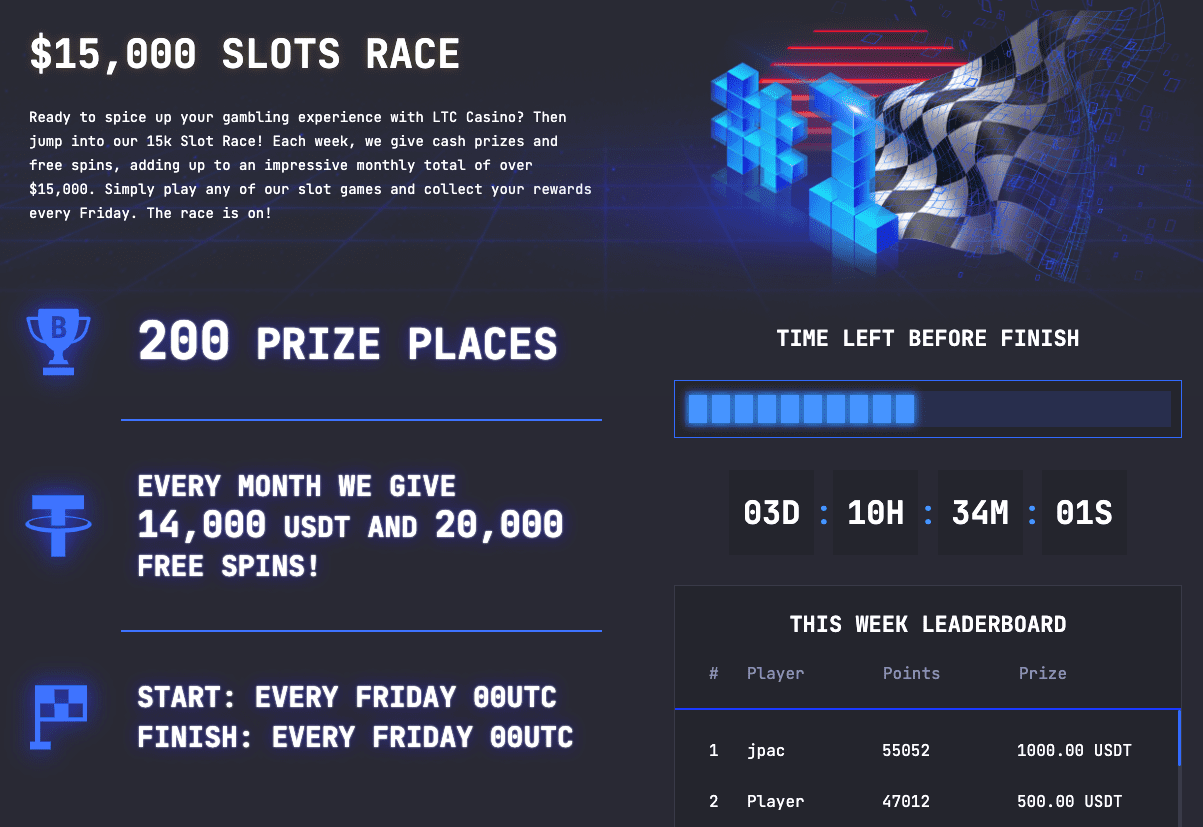 Getting the Most out of Online Slot Tournaments: Tips for Success
When you jump into online slot tournaments, your main goal is to win prizes and get the best rewards. Here are some simple tips to help you do better:
Pick Games Based on Your BankRoll: If you have a lot of money to play with, go for games in the medium volatility level. They let you play for a while and have a good chance of winning something. If your money is limited, try games with higher volatility that can pay more. This is important because without big wins, you won't have a good chance of doing better than other players.
Don't Always Aim for the Biggest Prize: If you don't have enough money to win first place, it's better to settle for a lower prize. Going for the biggest prize might make you lose more money than you actually win.
Keep an Eye on Other Players: During the tournament, the rankings change as players try to win. If you want a specific prize, make sure other players aren't doing better than you. Pay special attention towards the end of the tournament as players may have stopped their session, giving you a chance to overtake them. If you start to fall behind, it might be smart to bet more to catch up. However, do so only in accordance to your deposit and bet limits. As always, practice safer gambling.
Remember, doing well in online slot tournaments is about picking the right games, watching how others are doing, and being smart about the prizes you're aiming for. Use these tips to improve your chances of winning big!
Visit LTC Casino now for more details!