Gaming Conference Guide: Barcelona Crime & Safety Tips
Barcelona is set to host the upcoming SBC Summit 19 – 21 September 2023 and as recently announced it will be the site of ICE conference in 2025. CasinosJungle is lucky enough to have an office in this vibrant city so we thought we'd share our top tips to avoid pickpocketing and street crime, which is an unfortunate side affect of living in a popular tourist destination.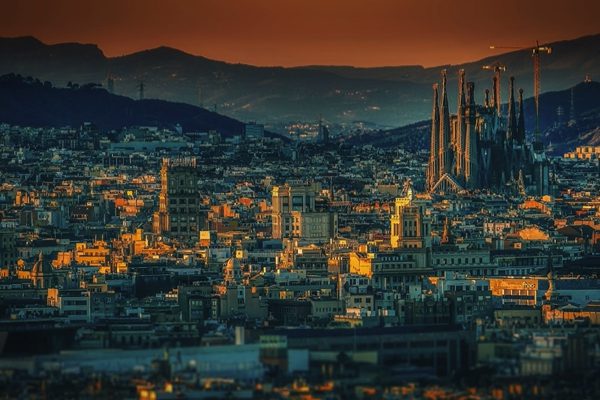 We recently read some concerns on a GPWA forum about the street crime rate in Barcelona, which may put some iGaming industry people off visiting; so as residents of the city here's our tips for safety and an overview of common scams run in the city to help you avoid them! To put your mind at ease from the start; Barcelona is a safe city to visit. We advise you to behave as you would in any major city – be vigilant. Keep an eye on your belongings and your surroundings.
Is there a high crime rate in Barcelona?
Whilst there is a high rate of pickpocketing in very touristic areas, compared to other European cities Barcelona is actually pretty safe. According to Numbeo.com the crime rate in Barcelona is lower than London, Dublin, Rome, Paris and Athens.
 Perhaps part of the reason for the high petty theft crime rate is that stealing something worth less than €400 is not actually a crime, it's a misdemeanor and the thief might get a €50 fine if they get caught. Most tourists have travel insurance so they simply go to the police station and get a report. There is an English speaking desk at the police station at the far end of La Rambla tourists can file reports with.
Don't be an easy mark
So this is advice from the school of the bloody obvious… but it's just a reminder there are thieves hanging around waiting for an easy chance to swipe your stuff.
The quickest ways to be robbed are having your phone or wallet on the table at a bar, in your back pocket, or in a backpack or handbag slung over your shoulder.
Keep zips done up tight and ideally keep your valuables in front of you.
If you're sitting at a bar or restaurant don't put your bag on the back of your chair or underneath it, it's too easy to be swiped.
Keep your valuables out of sight. Expensive watches and jewellery on display may draw unwanted attention to you.
After the conference take a trip back to your hotel and leave your laptop and passport there so you can enjoy the city nightlife without worrying about your belongings.
Being drunk makes you an easy target! Taxis are plentiful and cheap so just get a taxi back to your hotel rather than try to navigate your way back late at night, especially if you are alone.
Typical Scams
There are a number of typical scams used here and in other tourist cities. Being aware of them might at least get your spidey senses tingling if someone tries them out on you!
Bird Poo Scam
This is a common trick in Citadella Park and Park Guell where many tourists visit. Basically someone will come up to you, likely whilst you are taking a photo, and squirt some liquid on your jacket. They tell you that a bird pooped on you. Whilst they are "helping" you clean off they, or their accomplice is picking your pocket. We had read about this and then it actually happened to a friend, but they knew the scam and didn't fall for it!
Map Scam
You're sitting at a café enjoying some refreshment and a "tourist" comes up to you and asks for directions. They plop an open map onto your table and whilst you are trying to explain you have no idea where such and such is, they swipe your mobile phone or wallet from underneath.
New best friend high five
Late one night in Gotic, a friend of ours was offered a high five from a friendly stranger, but he was actually trying to steal his watch. Luckily the catch caught on his wrist, so ultimately the attempt failed but he couldn't believe how quickly he had unclasped his watch and he didn't feel a thing. These thieves are professionals!
Dance with me
Another friend nearly lost a Rolex in a square in broad daylight. If somebody offers to teach you salsa in the street, check your valuables aren't missing afterwards. 
Give me a hug
By now you've probably guessed that anyone getting into your personal space might be there for nefarious reasons! In this scenario a seemingly happy drunk will come to give you a hug and call you their friend but they're helping themselves to your stuff. This works best when you are super drunk since you probably won't notice the theft until they're long gone.
Fake police
We've only heard about this anecdotally – but the scam is a "plain clothed police officer" stops and asks you for your ID. You produce your passport and they drive off with it.
Tire Slash
If you rent a car, be extra careful if someone flags you down. We have read this happening to several people in forums, but mostly with foreign license plates. We'll mention it anyway just in case! The scam is someone on a bike or another car signals for you to pull over – your tire has a slash in it (that they put there) whilst you get out the car to check the damage your bag and its content are stolen out of the car. 
Take extra care in tourist areas:
Of course, thefts can happen anywhere in a city, but there are some hotspots in Barcelona. Ciutat Vella is the old part of the city. In Gotic and El Born you will find wonderful heritage streets to wander down. These are enchanting streets but they're also great for pickpockets since they can easily run away through the rabbit warren of streets and you won't catch them. Stick to well lit streets where other people are.
La Rambla – You've probably heard of it. Locals don't go there to eat or to hang out since it's so touristy. It's full of visitors to the city with full wallets and expensive cameras which attracts pickpockets. There is a lot of prostitution in this area too.
Barceloneta Beach- This is the closest beach to the city centre. Keep your eyes on your valuables and if you go swimming don't leave your stuff unattended. If you go a little further away to Bogatell beach you'll find more space for your towel.
Raval – This area has some very cool bars, but it also has a lot of drugs and prostitution. You won't have to look around too much to see it happening. If you see a police car parked at the end of a street you're probably on one of the main theft routes.
Sagrada Familia –  If you've got time to visit this spectacular building please do, but again don't keep your wallet in your back pocket whilst you're taking photographs outside.
Protect yourself in Barcelona
When you're on public transport be extra careful, people may try to distract you at the ticket booth and as you exit the metro be extra careful. Likely you are checking your phone for directions and thieves may be watching you. Also be careful getting on and off public transport, people may jostle into you to try to pick your pockets. Thankfully the metro is a lot quieter than London Underground and it's very easy to get around. Also, there are guardian angels watching! Some Barcelona residents have teamed up against the criminals and they actively watch pickpocket hotspots in the metro, blowing a whistle or shouting to get the attention of security when they see thieves operating.
Don't risk your personal safety
Never put yourself in danger. If you feel physically threatened remember it's only stuff. Nothing is worth risking your personal safety. However, if you think someone is trying to steal from you, and you feel it's safe to do so you can yell out, they will probably run away rather than risk drawing attention to themselves. If your bag is stolen most likely only your money and phone will be taken and your bag discarded in a nearby bin, so you might get the rest of your things back or your wallet handed into a police station.
Ok, so after reading all this you might be thinking screw that! I'm not going to Barcelona! However, please be assured this is a brilliant city. We have friends who have lived here 10+ years, including in the tourist areas, and never had any trouble. With a little awareness of your surroundings you will have a great at the conference and the after parties. We absolutely love it here and recommend more iGaming companies to relocate here to be part of the growing tech, fintech and gaming sector.
We'll bring you more top tips on getting the most out of Barcelona soon!
For more details on SBC conference click here.