How much money can you make selling pull tabs?
Boasting prizes up to $5000 pull tabs are as popular as ever. So here we answer all your burning questions…What are pull tabs? How much profit can make selling them? What qualifications do you need to sell them? Keep reading to find out more.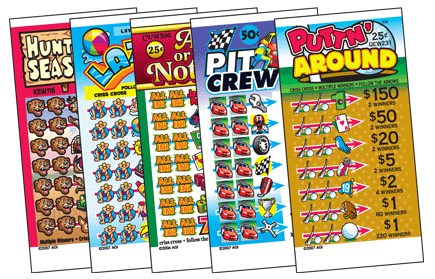 Pull-tab games, often known as break-open tickets, are a variety of lottery game. At least one perforated tab appears on each ticket and when opened, reveals possible winning numbers or symbols. Lucky 7s, Instant Bingo, Popp-Opens, Break Opens, and Nevada Tickets are all pull-tab games. You'll find them produced by a variety of major US companies including AmericanGames and Arrow International.
How do you play pull-tab games?
Pull-tabs are paper tickets with symbols behind their tabs.
The ticket can be redeemed for cash if a winning combination is drawn. Pull-tabs come in a variety of values, with $0.25, $0.50, $1, $2, $3, and $5 being the most common. Prizes of up to $5,000 are possible.
The odds of winning are frequently displayed on the pull-tabs. However, because each prize is limited to a specific number of tickets in the overall supply of tickets for a given game, the odds alter every time a prize is won.
People naturally start buying a lot more tickets when numerous significant rewards are still available with few tickets remaining, since the odds are better stacked in their favour. If all of the major prizes have been claimed, the game is usually retired and replaced with a new one.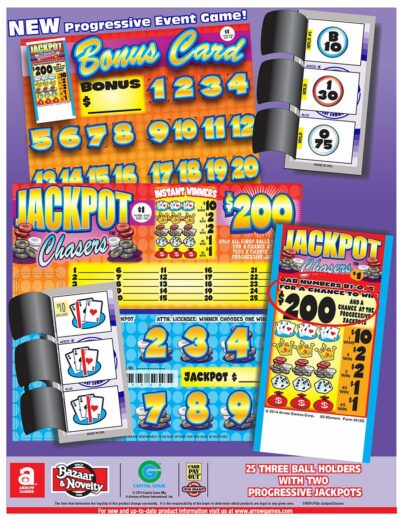 How much money can you make playing pull-tab games?
Various pull-tab games have different payouts. The top prize is frequently in the thousands of dollars, with the most valuable prize being around $5,000. So how much money you make depends on how much you spent buying them!
How to calculate the profit on a pull tab ticket
A typical full set of tickets contains roughly 3,000 tickets and adheres to the stated reward levels and win percentages.
As a result, you can easily calculate how much money the game will bring in by multiplying the ticket price by the number of tickets in each set.
You can also check the overall prize payout per set at a glance by referring to the information provided by the provider for that set, or simply adding up the individual rewards for that game.
Subtract the total rewards from the total ticket sales to get an instant estimate of how much profit you'll make once the entire set of tickets has been sold.
Electronic Pull Tabs
In November 1990, the first patent for an electronic pull tab was filed.  The electronic game is similar to pull tabs in that it has a fixed and preset number of chances. This includes a certain number of winning chances for a specified reward amount. It also has unique features such as allowing players to see the number of chances for any given prize value in each deal.
Since 1990, there have been various versions of electronic pull tabs. These are accessible for use by charity groups that are licensed by the state. This form of an electronic pull tab makes use of a hand-held device with a touch screen interface, similar to a tablet computer. All of these gadgets are controlled and monitored by a central computer. Each device must have access to one or more finite sets of chances that do not exceed a maximum number per set, or "deal" in pull tab jargon. The set sizes are regulated by jurisdiction and range from 7,500 to 25,000.
A preset number of winning and losing chances are included among the possibilities. Pull tab devices don't include spinning reels or other representations that simulate a video slot machine, according to the bill.
An electronic pull-tab game, is one that contains simulations of pull-tab tickets that are played on an electronic pull-tab device.
The gadgets are wirelessly connected to a master computer in the bar or restaurant, or to a central computer that manages multiple locations. The Minnesota Gambling Control Board, which oversees all of the devices, is linked to the control computers.
What does it take to become a pull tab dealer?
When it comes to being a pull tab dealer, there's more to it than you might imagine. For example, they can earn an average of just under $30 per hour. That works out to around $62,000 each year!
Between 2018 and 2028, pull tab dealing is predicted to grow 5%. Consequently this is expected to result in 9,000 employment openings across the United States.
How can you make more profit selling Pull Tabs?
One tip from Arrow International is to upsell users once they are winners. Statistically if a player wins a small prize they are likely to buy additional pull tabs to give them another chance to win a big prize. If you keep winning when you buy 25cents pull tabs, you're likely to start buying 50cent pull tabs for the opportunity to win a bigger prize.  You can also offer a wider range of tickets so if a player is unlucky on one game they can try another.
The amount of money you can make selling pull tabs can vary significantly based on several factors. Pull tabs are a form of charitable or fundraising gaming, and their profitability depends on the following:
Location:
The location where you sell pull tabs plays a crucial role in your potential earnings. Busy bars, restaurants, or other venues with a lot of foot traffic are more likely to generate higher sales.
Pricing and Prize Structure:
The price of the pull tab tickets and the prize structure can impact your profitability. Different pull tab games have various ticket prices and prize levels, and the more enticing the prizes, the more people may be inclined to play.
Regulations:
The sale of pull tabs is regulated and may require licenses or permits. Compliance with local and state gaming laws is essential, and it can affect your ability to sell pull tabs.
Expenses:
You'll have expenses associated with purchasing the pull tabs, renting space at a venue (if applicable), and other operational costs. These expenses will reduce your overall profits.
Sales Volume:
The more tickets you sell, the more money you can potentially make. Building a loyal customer base and having effective marketing strategies can boost your sales.
Competition:
The level of competition in your area can affect your sales. If there are many other businesses selling pull tabs, you may face more competition for customers.
Seasonal Factors:
The season or time of year can influence sales. For example, sales may be higher during holidays or special events. This is especially true if the pull tabs are themed. The same way that more people play holiday themed free slots around Christmas, Halloween and Spring, themed pull tabs may do better at certain times of year.
It's difficult to provide a specific dollar amount without knowing the specifics of your situation. Many businesses and organizations use pull tabs as a supplemental source of revenue for their operations or fundraising efforts. Your earnings could range from a few hundred dollars per month to potentially thousands of dollars, depending on the factors mentioned above.
If you're considering selling pull tabs as a business or fundraising endeavor, it's essential to research local regulations, carefully plan your operations, and analyze your potential costs and revenue to determine the viability of this venture.
What is the Role of a Pull Tab Dealer?
Many pull tab dealers have particular abilities that enable them to accomplish their targets. We were able to narrow down the most valuable abilities for someone in this position by looking through resumés. We observed that communication abilities, customer service skills, and math skills were most frequently seen. If you're looking to sell pull tabs but can't be bothered with hiring staff or doing extra training, you can use a pull tab dispenser. These are machines that can showcase a range of tickets. Each machine can hold thousands of tickets. 
What Does it Take to Become a Pull Tab Dealer?
One of the first things to consider if you want to become a pull tab dealer is how much training you'll need. A bachelor's degree is held by 23 percent of pull tab dealers, according to research conducted. However in terms of higher education anyone with a high school diploma or GED can become one.
When it comes to learning how to become a pull tab dealer, picking the right degree is crucial. When we looked into the most popular ones for pull tab dealers, we discovered that they mostly had associate or bachelor's degrees. High school diplomas or diploma degrees are other degrees that we frequently see on pull tab dealer resumés.
You might find that certain previous work experience will assist you in becoming a pull tab dealer. Many pull tab dealer jobs, in fact, need previous experience as a cashier. Other pull tab sellers have previous work experience as customer service representatives or bartender servers.