Iowa Sportsbook Controversy Set to Usher in New Laws
The iGaming industry in the US is still in something of a nascent stage. As many states look to embrace sports betting and casino gaming, though, there are always going to be some teething issues and legal slip-ups. And that's exactly what has happened in Iowa, where a recent controversy surrounding the use of sportsbooks among college athletes in the state. As this story has unfolded over the last month or so, more and more has been uncovered that has left the state of legal iGaming in the state very much up in the air. And it looks like the first step will be a swift change in the regulations around the use of sportsbook accounts in the hope that a quick response will help restore confidence in an industry that only opened to the public in 2021 and has already seen its foundations rocked.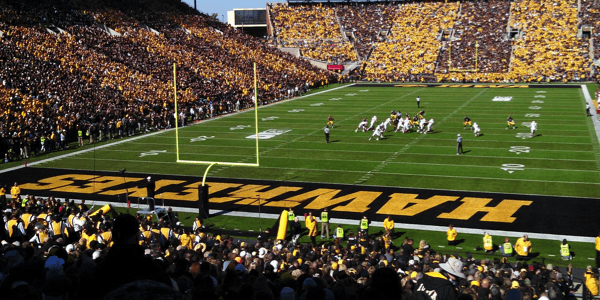 Account Sharing and Tampering at the Heart of Issues
According to reporting from Sports Illustrated, a number of Iowa and Iowa State past and present athletes have found themselves embroiled in a legal battle that has spawned from an investigation into a number of college athletes and staff who were accused of gambling while under the age of 21, circumventing the restrictions around these age limits by providing their family members' details or using their accounts. This is obviously a concern for the schools' officials, especially given that the NCAA restricts its members from placing any bets on sports that the organization is involved in. As such, the over 100 individuals highlighted by the investigation are facing a rough period of reflection and potential sanctions from both the school and associated boards. However, that is going to be of even more concern for the seven people involved in the legal proceedings.
The seven players who have had legal action taken against them are facing one charge each of tampering with records related to an investigation. This refers specifically to the use of incorrect details to gamble illegally. Inquiries have shown that some of the most popular college athletes were gambling thousands of dollars while underage, including placing bets on Iowa sports. Hunter Dekkers, an Iowa State college football star, is claimed to have placed nearly 300 bets while not yet 21, with a total stake of around $3,000, using an account in his mother's name. He has since stepped away from the side in order to avoid being a distraction to his teammates but his attorney has stated that he will plead not guilty. However, Dekkers was not the worst offender in terms of the amount staked. Wrestler Paniro Johnson managed to gamble around $45,000 across more than 1,000 bets. It's clear to see that this was a systemic issue within Iowa sports. With regards to casinos in Iowa all venues follow state law. If the resort offers alcohol you must be 21 to enter and provide ID.
Clamp Down on Sharing Amid Local Support
While the accusations laid against the individuals involved in this scandal are serious, it doesn't appear that the mood in the state is one of understanding and a need for compassion in a situation that deals with young men whose careers are now up in the air for what was essentially a series of stupid mistakes. Writing in The Des Moines Register, the editorial team expressed the need for the NCAA and authorities to take a common-sense approach to dealing with a difficult situation. There has been a suggestion by those in charge of investigations that there could be more charges as more evidence is exposed and the extent of the underage gambling problem in Iowa is fully realized. However, it appears that the public is keen that any punishment dished out doesn't take the form of custodial sentencing and, instead, that any punitive measures take the form of fines or education. The concern is that authorities will look to make an example of these athletes given the high-profile nature of the controversy.
In July of this year, the NCAA first announced that it was aware of 175 sports betting violations since 2018, according to ESPN. This shows that there is a somewhat widespread problem within college sports and it's key that this is ironed out before it can grow into a much more problematic situation. While there are no indications that any form of match-fixing has taken place, when clandestine sports betting takes hold in a sporting landscape, it becomes fertile ground for even more concerning gambling behavior. As such, authorities should look to ensure that account sharing is stamped out and that support is given to those who need it. Either way, it's key that those in charge move quickly to ensure that an already difficult-to-navigate problem doesn't grow into an existential catastrophe for college sports.