Las Vegas Hospitality Workers Vote to Strike, Affecting 22 Casinos
At a time when workers' rights are high on the agenda, it's become no surprise to hear of strikes in key industries. The recent Writers' Guild of America strike has brought entertainment to its knees across the States. And now, it looks like the casino industry will be the latest to feel the pressure of its staff taking industrial action in an effort to press those at the top into providing more favorable working conditions or pay standards. With negotiations between hospitality workers and moneymen at three of Las Vegas' biggest gaming companies seemingly with no end in sight, a vote has passed that will see thousands of key staff vacating their posts at 22 venues. This will no doubt cause significant disruption in a period where CEOs and visitors alike will be keen to see things run as smoothly as possible.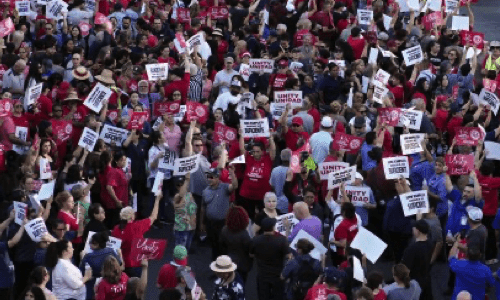 Stalling Negotiations Leads Union to Authorize Action Ahead of Busy Period
While many will be somewhat surprised to hear that strike action will go ahead, this latest news hasn't come purely out of nowhere. Anyone with a strong eye on the Vegas gambling landscape will have been aware that talks have been ongoing between both workers and company representatives. These discussions have been bubbling under for almost half a year. They began in April and are still evidently no closer to coming to a positive conclusion that will see both parties come away happy. According to the Guardian, 95% of the 53,000 workers in the hospitality staff union voted in favor of strike action in an attempt to force employers' hands and encourage them to meet the workers on their demands for fairer pay and workloads. That report does clarify that there has been no deadline set for striking to take place, but it will no doubt have the heads of these three companies in question sweating. The coming months look set to be some of the busiest that the Strip will see in some time, and companies will be reluctant to take the drastic step of employing non-union staff to fill the gaps left by striking workers.
That busy period of time does mean that the union staff have a good amount of leverage as they look to open their employers' eyes to their cause. September to November represents a peak period for visitors as the weather in the Nevada desert gives tourists a welcome reprieve from the incoming wet and cold fall elsewhere. Furthermore, Irish rockers U2 will be hosted across three months at the newly-opened Sphere venue and will no doubt bring significant visitor numbers into the city. However, what will certainly have the heads of casinos and resorts in the area pulling at their collars is the upcoming Las Vegas Grand Prix in Formula One. The Athletic reports that the Vegas race day will likely attract 100,000 to the Strip, as they jostle to see the action unfolding on the streets of the Sin City. Staffing will be key to any hotels that have offered packages for F1 fans and, if 50,000 workers were to down tools around the time of the race, it's likely that they would struggle to keep up with the demand that a global sporting event will bring with it.
Better Pay, Lessened Workloads, and Improved Conditions on the Menu
Ultimately, while strike action is always going to cause disruption, it's important not to lose sight of why such action is being taken. Eater Las Vegas details that the union workers looking to put pressure on MGM Resorts International, Caesars Entertainment, and Wynn Encore Resorts are doing so as they're working on expired contracts. These staff members are looking to negotiate new contract agreements now that their existing ones, signed five years ago, are no longer effective. Members argue that the increase in the cost of living and the evolving workload in the wake of a global pandemic means that they require vastly different contract conditions from the ones they agreed to half a decade ago. And with the no-striking agreement also expired with their previous contracts, the union has moved to introduce the threat of striking. With this, they hope to achieve the biggest increase in wages that the union has ever managed to agree. 
As it stands, with no set date for any industrial action, it's unclear whether the pressure put on the three companies will see them break any time soon. The WGA strike that affected Hollywood has only just seen a vote passed for it to end after five months of writers standing on the picket line. Developments can be slow when it comes to big business and it's unlikely that everything will be entirely ironed out particularly quickly. Instead, it seems that the union sees this as a last resort that they will hope sees those in charge start to creak and agree to at least some concessions in order to keep strike action at bay for now. Time will tell if they receive the conditions that they desire, but most will hope that no disruption is required.