Suncity and the Macau gambling clampdown
The Chinese government is trying to stop corruption and fraud within the gambling industry. As a result of an investigation and subsequent arrests at the company, the price of shares in the Suncity group has experienced a dramatic fall.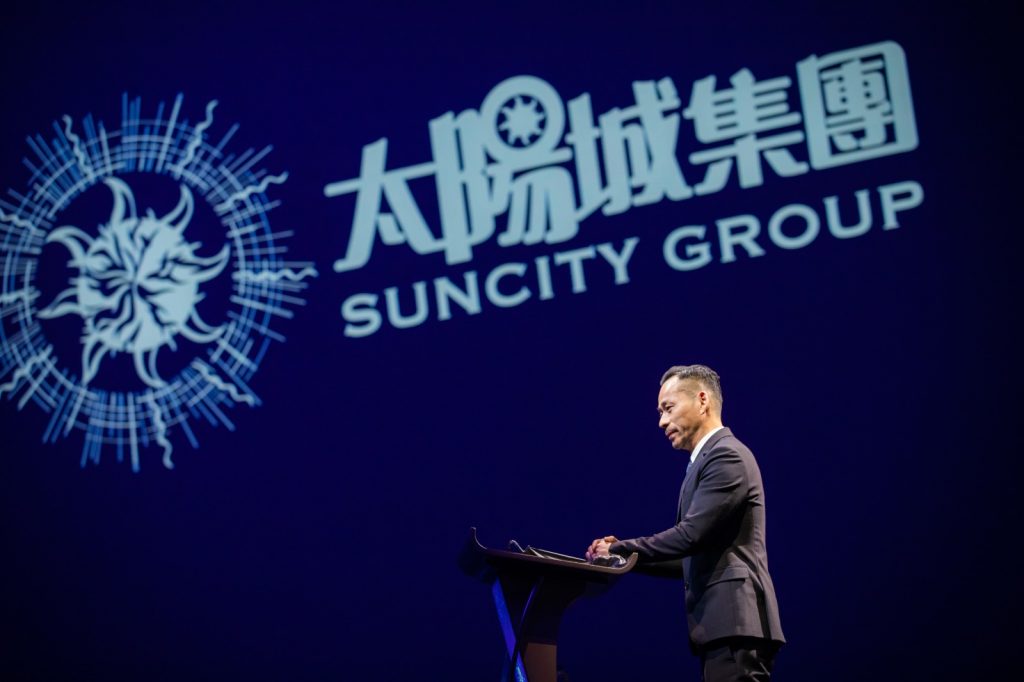 Macau casino operators The Suncity group share prices' have plummeted, following the arrest of 11 people on suspicion of money laundering and illicit gambling, Authorities have said his case is being handled according to Macau's gambling laws. These are different from those in mainland China and the investigation is separate from the one in Wenzhou.
Authorities had previously stated that they were questioning Alvin Chau, a prominent figure both in the gaming industry and in the public eye. Mr Chow's way of life embodied the best of what the city had to offer. He patronised motor racing events, developed movies, and posed for pictures with celebrities. Mr Chau, a Macau native with Portuguese citizenship, made his money in the city's VIP clubs. Starting around the year 2000 he built his way up. He was managing a VIP suite in a renowned hotel by 2007. Within three years, he was on a list of Macau's most prominent personalities. It wasn't unusual to see him at social events dressed like a film star.
He once showed off a tattoo with the words "Suncity Group" as he posed bare-chested.
Mr Chou won favor in Beijing by advocating for greater links between mainland China and Macau and Hong Kong. However, by creating casinos overseas aimed at Chinese gamblers he appeared to be overstepping the mark. The mainland regulators rejected his proposals.
Chinese official media suspected him of leading a cross border gambling network. The mainland of China has prohibited gambling. However, since Macau permitted gambling it has overtaken Las Vegas to become the world's largest casino hotspot.
Alvin Chau headed up Suncity Group Holdings. This company encompassed the largest junket operator in Macau which organizes vacations to Asian gambling destinations. SunCity had 4,500 employees and casinos in Russia and Vietnam by 2019. In July of that year, a state-run newspaper claimed that the SunCity Group were enabling gamblers to evade Beijing's restrictions. This was leading to the transfer of billions of dollars out of the country.
Mr Chou disputed the charges but publicly apologized for the damage to Macau's and the gaming companies' reputations. He put out a video presenting the company's bank documents a year later claiming that they weren't soliciting gamblers in China. Mr Chou resigned as chairman of the group following his arrest.
The Hong Kong Stock Exchange has halted trading in Suncity Group shares
This has hit many operators hard. MGM China dropped 10%, Wynn Macau was down 8%, and Sands China was down more than 6%.
The Global Times identified Mr Chau as the boss of a cross-border gambling criminal gang. They claim that it has over 12,000 gambling operators and 80,000 participants all across China. Mr Chau is also a majority shareholder of Sun Entertainment Group, a Hong Kong-listed cremation services and film production company. It has since stated in a stock exchange filing that its management had acknowledged the accusations. Suncity has come out and stated that the company, its subsidiaries, and employees are not being investigated in connection with Chau's arrest. They did state however that losing Chau's financial support would have a negative impact on the company's business and operations.
The Sun Entertainment Group's stock fell by almost 30% in the fallout of the news.
In recent months, officials have increased their monitoring of Macau's casinos in order to successfully oversee their operations. Lei Wai Nong, the city's secretary for economics and finance, announced a 45-day review period on gambling operators in September. The aim of which was to identify and highlight flaws in the industry.
Mr Lei outlined nine items for discussion during a news conference. These included better sector regulation and government officials overseeing daily casino management. Casino gambling is prohibited on the mainland and Chinese tourists are by far the most frequent visitors to Macau. High flyers' huge wagers helped Macau become one of the richest places on the planet. A status-based primarily on gaming earnings. Although Macau's six casino owners have no official ties to junkets like Suncity, they have relied on them to bring in high rollers for decades. In 2021, the VIP customers accounted for almost 35% of their $68 billion in gambling revenue.
The pandemic has wreaked havoc on the industry, essentially eradicating Macau's main source of revenue. In October, casinos suffered their worst month of the year. Gaming revenue was down 40% from 2020. In 2019, revenue was down 83 percent from pre-pandemic levels. All this is a long way away from Suncity's heyday in 2013. That year saw the company's VIP rooms take more than HK$180 billion in a single month.
Since 2020, China has ramped up its anti-cross-border gambling campaign.
It has released a number of government and legal announcements. In addition, it has revised its legislation to specifically prohibit mainland Chinese nationals from gambling abroad.
State media has reported that Beijing's top envoy in Macau will be appointed as the local government's national security adviser. The matter has drawn additional attention to Macau's junket system. This is a network of brokers tasked with attracting high-rollers, lending them money, and recovering loans. Junkets were first introduced to Macau by the late tycoon Stanley Ho, who controlled the city's gaming monopoly until 2002.
According to Morgan Stanley, the VIP industry that brought the junkets in was the greatest source of government tax revenue in Macau in 2018. It accounted for around 60% of the total overall gambling revenue. Before the Covid-19 outbreak, Suncity accounted for approximately half of Macau's junket industry. According to the investment bank, VIP business plummeted by 38% in 2019, as the pandemic severely impacted Macau's entire industry. The Macau casino stock index was down more than 40% by the end of 2021. This resulted in it being the worst year since the China stock market bubble burst in 2015.