We heart Jurassic Park
We all love Jurassic Park, right? This epic movie crashed into theatres in 1993 and still remains a fan favourite.  The franchise has continued since then with The Lost World, Jurassic Park III, Jurassic World, Fallen Kingdom and Battle at Big Rock. In between these movies we've seen a few awesome branded Jurassic Park slot […]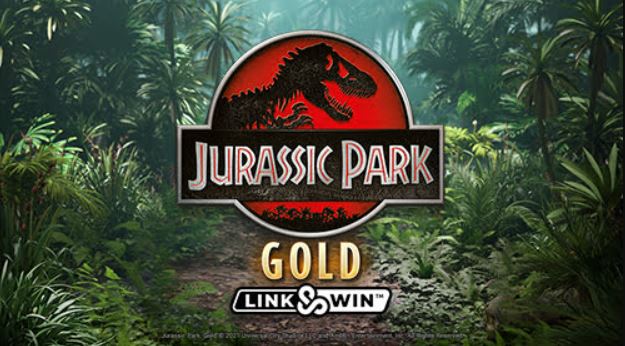 We all love Jurassic Park, right? This epic movie crashed into theatres in 1993 and still remains a fan favourite.  The franchise has continued since then with The Lost World, Jurassic Park III, Jurassic World, Fallen Kingdom and Battle at Big Rock. In between these movies we've seen a few awesome branded Jurassic Park slot games launched too.
We're extremely excited to see the new Jurassic World Dominion movie this summer! Especially since it features the awesome original cast members Laura Dern as paleobotanist Dr Ellie Sattler, Sam Neill as palaeontologist Dr Alan Grant and Jeff Goldblum as Dr Ian Malcolm; an unlikely open shirt scene stealing chaos theory mathematician and "life finds a way" quotee. Since June is still a way off we thought we'd take a minute to revisit the best Jurassic Park slot machines. Would you like to join us? Nah uh uh, you didn't say the magic word! Sorry, just a bit of JP humour, let's get on with it: hold onto your butts!
Jurassic Park, Microgaming 2014.
In 2014 Microgaming partnered with Universal Studios to create licensed Jurassic Park online slot game. The 243 ways to win game features all your favourite characters, both human and dino. It's a medium volatility game, the hit frequency is 36.05% and the RTP is 96.67%. The game features heavily in free spin rounds. The game offers 5 unique free spins rounds each correlating to a different dinosaur species.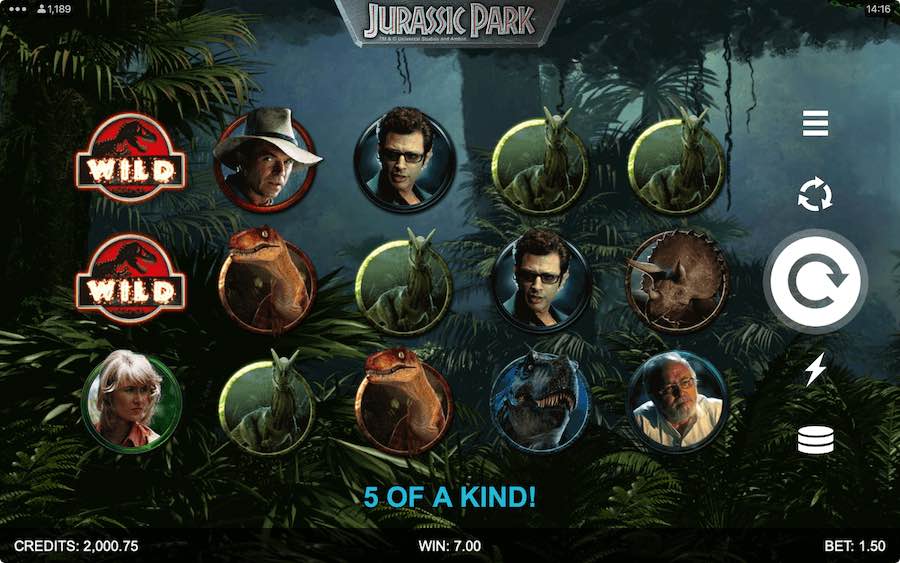 Once you've triggered free spins 25 times, you can then manually select which free spins feature you want.
Each of these free spins features awards 12 Free Spins:
T-Rex – Wild Reels feature. At any point during your 12 free spins good old T-Rex might show up and turn 5 reels wild!
Velociraptor – Two fold bonus round with Split Wilds and up to x6 Multiplier Wilds in action. Split wilds can create a 6 of a kind payout (worth double a 5 of a kind).
Brachiosaurus – Gives you Mystery Multipliers with a value of up to x6
Triceratops – Running Wilds grows one wild per reel. On non winning spins the wilds are held in place and partially stacked ones are nudged to create full wild stacks and the reels spun.
Dilophosaurus – Offers you Winning Wilds, where random symbols are turned into sticky wilds.
The max win amount from a spin in free spins round is 6,333 your stake. Plus look out for the thrilling T Rex Alert which adds up to 35 extra wilds to the reels! These wilds are active on the reels for 6 spins.
One design element which really helped to engage players was the use of parallax scrolling effects which meant the action in the background played out slower than those in the foreground. This technique gives the game depth and contributes to the heavy atmosphere.  If you like the sound of this game you can play at
Jurassic World, Microgaming
After the success of the movie starring Chris Pratt, Microgaming teamed up with Universal studios again to produce Jurassic World online slot game. It's again a 243 pay lines game, and features cinematic clips on the reels. There are less free spins rounds than in the first Jurassic Park slot, but the max win is far greater with a potential payout of x14000 your stake!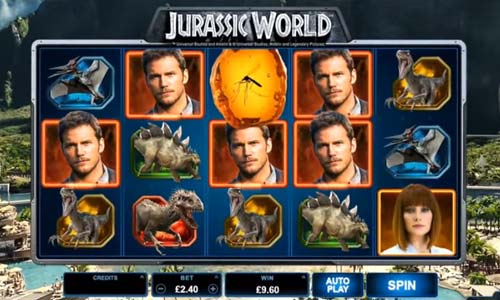 You'll be awarded the free spins features at random until you've hit free spins rounds 15 times, then you can pick for yourself.
All of the free spin rounds grant you 10 free spins.
Raptor Den free spins – All scatters are wild and they stick in place until you win more free spins. You'll get 5 free spins when you hit 3 or more scatters on the reels in any position.
Gyrosphere Valley free spins – In this feature you start off with a multiplier, but every spin that doesn't win the multiplier will grow. The multiplier will continue to grow with each spin until you kerching! Hit a win and then the multiplier is reset. Even if you don't get a win after 10 free spins the reels will keep going until you do hit a winning line and of course, it will grant you a x10 payout!
Creation Lab free spins – This round gives you rolling reel. When you strike a winning line, these symbols fall from the reels and are replaced with new ones giving you more chances to win. Look out for Cryo Wilds which stick on the reels anywhere at random for 3 consecutive spins.
Jurassic Park Gold, StormCraft Studios & Microgaming 2022.
Seems that the folks at Microgaming are as excited about the new movie release as we are by rehashing their original JP slot with some extra polish and shine. Developed by StormCraft Studios and launched on Microgaming platform, here is Jurassic Park Gold. The game is based on the original 2014 smash hit slot game and features the same beloved characters. but with new and exciting mechanics and features.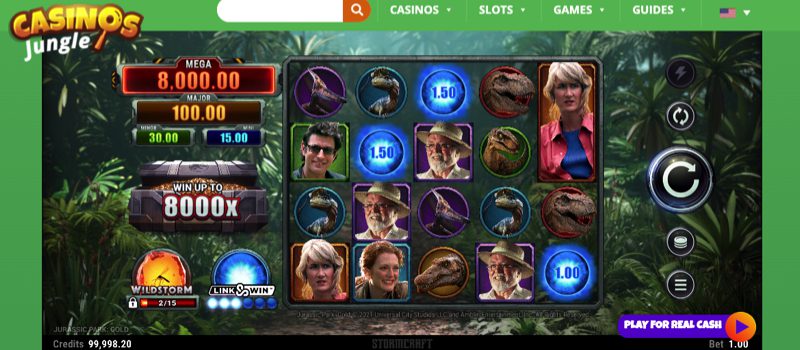 Free Spins
It wouldn't be a Jurassic Park slot without a lot of free spin features and this one is no different. The scatter symbol is the infamous mosquito trapped in amber. 3 or more scatters triggers free spins selection.
Dilophosaurus Free Spins – You'll receive 12 free spins. Pick up a Wild Multiplier up to x8 and the chance to win up to x3600 your stake. Respins are available after the first free spins trigger.
Velociraptor Free Spins – Get 9 free spins. You'll get Wild multipliers worth up to x8 and the chance to win up to x3650 your stake. Respins are available after 4 free spins triggered.
Spinosaurus free spins – Activates 6 free spins. Wild Multiplier up to x8 and the chance to win up to x4000 your stake. Respins are available after 8 free spins triggered.
Tyrannosaurus Rex free spin – win up to 5000 times your bet! A free spin is awarded with WildStorm Feature that turns up to 5 reels wild. You need to collect and fill the scatter symbol meter. Collect 15 pairs of scatters in the base game to unlock the feature in the next free spins round.
Wild Chase Feature – in each free spins round, hitting a wild on the activated position will make the wild expand and will continue throughout the free spins feature. Manage to get all the positions activated and you'll get an extra 4 free spins.
Link & Win bonus feature
Collect 6 or more powerball symbols to trigger the feature. The reels expand to a 5×8 grid and the more powerballs hit the more rows unlocked. Fill the screen with 40 powerballs to hit the x8000 jackpot! You can try out the free demo of Jurassic Park Gold