Dr Mick Monay's Casino Guide USA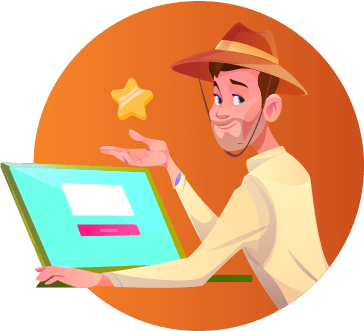 Local laws: The laws around gambling vary a lot from state to state. This includes everything from the legal age of gambling, to the rules around what types of betting are permitted in the state. For example, betting on horse racing might be perfectly legal on a tribal reservation in one state. However, it could be totally non existent in another.
Minimum age to gamble: The majority of states require you to be 21 or over. This also complies with liquor laws since alcohol is served in casinos. However, some states will allow you to enter at ages 18 or 19. Please check the information on your state page in the Casino Guide USA and if in any doubt check with the casino before you visit.
Gambling online in USA: Some states have legalized online gambling, including New Jersey and Pennsylvania but you must be physically located in the state to play. If you're looking for an international online casino that accepts US players we can help you find the best real money casinos online .
Welcome to Fabulous Las Vegas!
We couldn't write an overview of gambling in our Casino Guide USA without putting the spotlight on the City of Sin herself; fabulous Las Vegas. If you're wondering how this desert metropolis came into being, here's a quick run down of the history of Vegas.

Origins:
The city was first founded by ranchers and railroad workers in 1905 . When the railway line connecting Los Angeles and Salt Lake city arrived in the area, it enabled a connection to the main railway network. Gambling was actually illegal in the state of Nevada in 1910 but organized crime enabled gambling to thrive anyway.
The Strip:
The infamous Las Vegas strip was started in 1941 with the foundation of the El Rancho Vegas resort. It was expanded in 1946 when the Flamingo was built by famous gangster Bugsy Siegel. This dazzling hotel was built on mobsters money. It brought with it the style and decadence of Hollywood. Cash flowing from organized crime continued to fuel the development of the Las Vegas strip, building famous casinos Sahara, Sands, New Frontier and Riviera. Hosting big name acts in lounges drew crowds to Vegas in the 1950's. Performers such as Sinatra, Elvis and Dean Martin are especially associated with Vegas glamour. You might know them better as "The Rat Pack."
Modern Vegas:
In 1989 Steve Wynn opened the Mirage and over the years more old casinos were demolished to make way for new, ambitious and exciting resorts. Striving to draw crowds with unique features; you'll find everything in Vegas. Ride in gondolas in the canals around The Venetian Resort. Visit Hershey's Chocolate World in New York New York. Ride the observation wheel at the Linq, or ride roller coasters at Circus Circus. You can even fly on a zipline over Freemont street. Or simply play casino games at one of the venues featured in our Casino Guide USA at the adult's playground that is Las Vegas.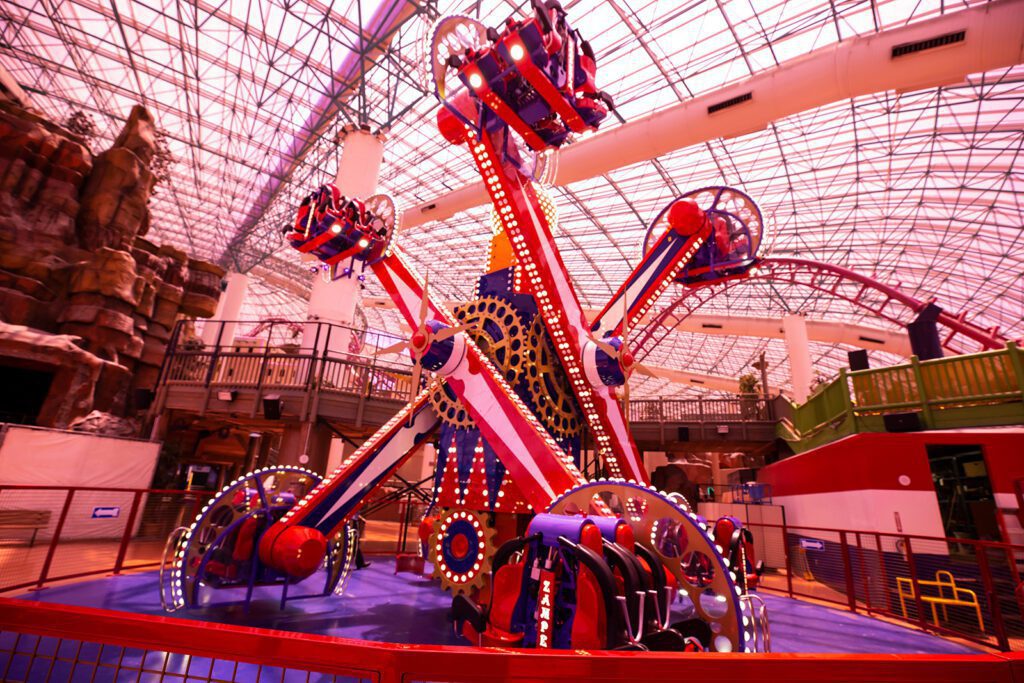 Fremont Street: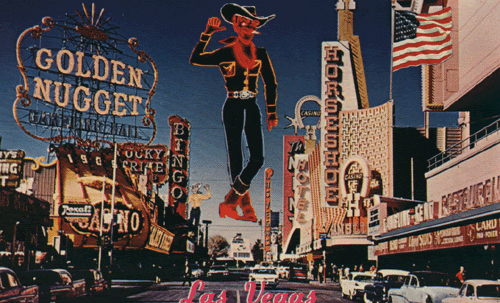 In 1931 the Hoover Dam started to be built. This was a massive undertaking and drew a lot of workers to the area. Workers earning salaries created opportunity, so with the dam came casinos and showgirl venues on Fremont Street. If you visit Fremont street now you'll get a taste of old Vegas. It has a very different atmosphere from the bright lights of the modern hotel casinos on the strip. Fremont street had more of a wild west feel to it.
The Aviator:
In the 60's massive corporations got in on the act, forcing out mob interests. Famously in 1966 Howard Hughes, an eccentric billionaire whose fortunes came from his father's revolutionary new drill bit that could penetrate solid rock, stayed at the Desert Inn. He rented the entire top floor and the floor below it for 10 days. At the end of the period, Hughes didn't want to leave. The suites had been promised to high rollers and the owners were getting furious. So to avoid eviction, Hughes negotiated with the owners for the next 7 months, eventually buying the whole casino hotel for $13.25 million. He then started buying up other casinos, cleaning up the sordid image of Vegas and drawing other legitimate businesses to start investing in the city.
Casinos and shows:
Gambling in casinos is still the main draw to Vegas, but now there is a diverse range of shows to enjoy too. Musicians, magicians, burlesque dancers and acrobats perform in the auditoriums nightly. Cirque Du Soleil is a particularly popular show organiser hosting sell out shows in Mandalay Bay, Bellagio, and Mirage. Other famous acts include Blue Man Group, Le Rêve and David Copperfield, who has been performing for 13 years at MGM!
Atlantic City: America's Playground
It wouldn't be right to talk about Vegas and not mention the second most popular gambling destination in the US. The East Coast's major gaming and leisure destination has had a difficult past. However, Atlantic City seems to be making a comeback in 2021.
Origins: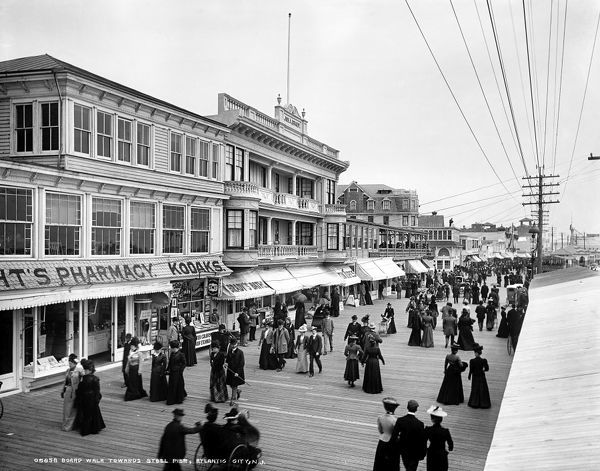 New Jersey's Atlantic City started as a resort town, in the 1850's. The first hotel in the area was Belloe house. South Jersey physician, Dr Jonathan Pitney deemed this spot to be the ideal medical retreat to enjoy the health benefits of fresh sea air. He and his business partners proposed the building of a railroad connecting the resort to Philadelphia. As more visitors flocked to the area, more hotels sprung up to accommodate them. In turn, this led to the creation of the famous Atlantic City boardwalk.
Roaring 20's
As popularized in TV show Boardwalk Empire, Atlantic City was popular in the 1920s. It was also popular during prohibition due to corruption.
However, after the second world war Atlantic City fell into disrepair. Fashions and tastes had changed. People started moving out of the busy cities to the suburbs. In these suburbs it was possible for people to experience their own lawn and pool lifestyle. This resulted in a decline in travel to leisure resorts. Consequently, in the 1960's many once popular resorts were demolished.
Rise and Fall:
However, in the 1970's gambling came back on the scene to revive Atlantic City's fortunes. Residents voted in favour of legalizing gambling and in 1978 Resorts Atlantic City opened. After that more major casinos opened such as Tropicana, Bally, Borgatam Harrah's and Caesar's plus many more which are no longer open. Revenues increased and it seemed that Atlantic City offered a competitive alternative to Vegas.
Unfortunately, it was not to last. Vegas received a huge cash injection in the 90's creating family friendly activities and vividly themed casinos. Other casinos were opening up around the country so there were less visitors to Atlantic City. Recession in the 2000's had a major impact on New Jersey. Crime increased whilst disposable income decreased. Several "Mega Casino" projects were abandoned.
Online casino legalization:
The story is not over yet though. With legislation passed on online gambling within the state of New Jersey in 2013, revenues are on the increase.
Online casino operators must partner with a land based casino in order to run their businesses. As a result, they are giving a new lease of life to Atlantic City's casinos. They are also generating tax for the state. In May 2020 online operators saw Gross Gaming Revenues of near $86 million.
As more and more US states legalise online casino gaming New Jersey is in a strong position. It has placed itself as an early adopter, and therefore it is one of the key market leaders.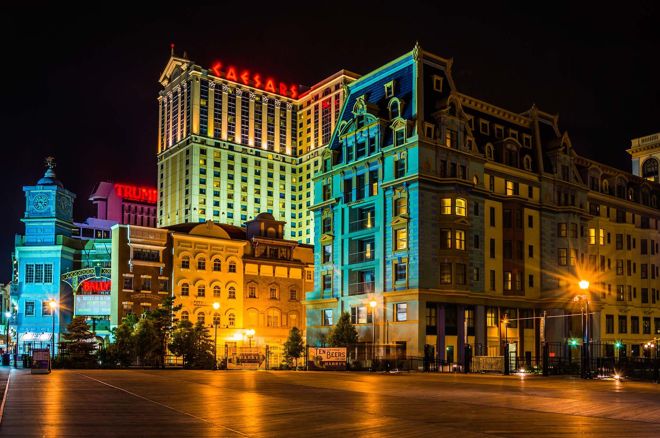 Other pages you might be interested in