Could Crypto Fill the Gambling Gap in Sports Sponsorship?
The last half a decade in the gambling industry has been a contrasting one depending on your location. In the US, it has largely been five years of liberalization and growth since the overturning of restrictions on sports betting and online gambling. However, in Europe, there has been a starkly different approach. Instead, the authorities there have been looking to rein in what it sees as an industry that has grown too big for its own good. Part of these steps to bring the gambling industry back into line has been evaluating the effects of advertising and imposing restrictions on how operators can promote their brands.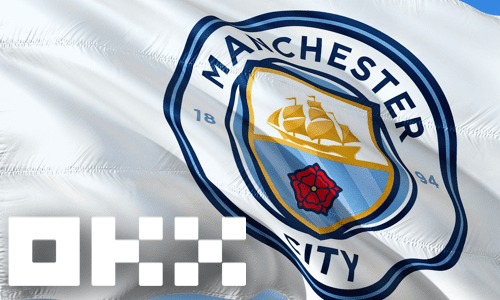 A big part of this evaluation has been re-assessing the industry's relationship with sport, particularly soccer, and some countries have moved to ban the use of betting companies as primary jersey sponsors. The UK's Premier League has done exactly that, which has led to many soccer clubs wondering where their vital funding will come from. Could the crypto industry be ready to step into that vacuum?
Blockchain Already a Presence in Soccer
The question of whether the crypto industry could be the one to step in and fill the financial blackhole that sportsbooks will leave isn't one posed entirely without precedent. A number of clubs in the English Premier League already have deals of some form with companies aligned with crypto and blockchain. The ever-dominant Manchester City signed a deal this year to partner with a crypto exchange that will sponsor their training kits, while also taking over the sponsorship on the sleeve of the official team jersey that players will wear on the field. Forbes reports that this deal is worth $70 million – a fee that very nearly matches Liverpool's $100 million deal with Standard Chartered for main jersey sponsorship. This shows that, despite a turbulent few years for crypto, there is money there to be pumped into soccer. Given that these deals will also then provide promotion in the form of hundreds of millions, if not billions, of eyes on the brands, it's not impossible that the industry will see an upturn that drives up the value of these deals.
Beyond that, it's clear that soccer stars and those from the wider world of sport have bought into the idea of crypto, blockchain, and NFTs. England soccer legend John Terry famously put his weight behind a number of NFT projects, though this didn't go as smoothly as he hoped, with the Guardian reporting that the Premier League took legal action against him for the unlicensed use of images of their trophy. Nevertheless, the presence of such a household name within a burgeoning environment is encouraging and displays a willingness for those in the sport to get on board with new tech. It's not just soccer, either. Formula One has been one of the biggest sporting competitions to fully embrace a relationship with crypto. Its official title partner for the Miami Grand Prix is Crypto.com, an exchange at the forefront of the industry with 80 million users. This deal will last for nine years, according to a Crypto.com press release, and will cement its place as a leader when it comes to token exchange. It's clear to see that as sport looks to ensure continuous profits and competitive pay packages for its competitors, it will look to any avenue it can for funding. It just so happens that businesses in the crypto sphere have the money to take on that mantle.
Is Crypto a Long-Term Sponsorship Deal Solution?
One of the primary concerns that many will have about getting involved with such a new and, to many, mysterious enterprise is its longevity. Can these businesses carry the burden in the same way that multi-million dollar gambling companies could in the past? In the Premier League, betting companies make up nearly half of the league's front-of-shirt sponsors, according to Sports Pro Media. That means that there needs to be a full ecosystem of crypto enterprises that can prove themselves financially viable and put the big bucks into the coffers of these sporting behemoths. Companies such as Crypto.com may have the money to do so, but is there enough to be shared around half of a 20-team league? That's the question many will be wanting answered. On top of that, the volatile nature of crypto as a speculative asset will be a cause for concern, especially as we have seen a number of crashes in recent years.
That doesn't mean that the crypto economy can't sustain a sponsorship model with elite-level sport. It just indicates that football clubs, as well as exchanges and blockchain projects, will likely be extremely cautious when agreeing long-term deals. Due diligence is always key in big business and that remains the case here. What's clear to see, though, is that there is a need for a new player to move in and take the place of sportsbooks in an environment that relies on the riches of private companies to thrive.