Las Vegas Sphere Celebrates Triumphant Debut
It's been a couple of years of change for Nevada's crown jewel of a city. Las Vegas has set about revolutionizing its Strip and diversifying its leisure and entertainment options. A big part of that, undoubtedly, has been the Las Vegas Sphere. It's a marvel of engineering and sits in pride of place on the city's skyline, dazzling visitors and residents with eye-catching marketing and awe-inspiring visuals. More than that, though, it has opened up a new world of live music and theater to a city that had long lacked a world-class arena venue.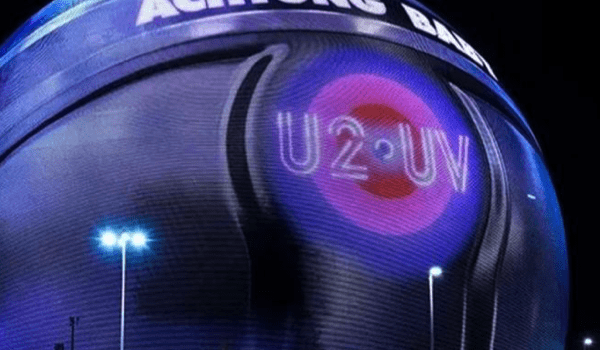 The city's previous entertainment options were often limited to casino and hotel theaters that, while impressive in their own right, couldn't always live up to the needs of world-renowned touring artists. Instead, these lent themselves to cozier residencies that spanned years. Now that the Sphere has opened, though, that's not the case.
U2 Blow Fans Away With Age-Defying Performance
The Sphere is nothing new to those with their fingers on the pulse of Vegas. It's promised a lot since the plans for it were first announced in 2018. Then, it got everybody talking when it was used to display the image of a giant blinking eyeball, with its 1.2 million LED puck 360-degree screen. The BBC reported that, at the time, it was causing mixed feelings among residents. Now it's at the heart of one of the city's most exciting developments in recent years. The 18,000-capacity amphitheater has opened its doors to customers and is now ready to host regular concerts. The opening night was September 29, 2023, and it didn't disappoint for those eagerly awaiting the first of many concerts. To give the venue the grand opening that it so clearly deserved, organizers pulled out all the stops to put one of rock's most iconic bands on the stage. Irish rock band U2 stepped out to a sell-out crowd to mark the beginning of a brand-new era of music in Vegas.
They might have been going since 1976, but the Dubliners clearly still have the charisma to draw in the crowds and give them what they want. Billboard described them as "exactly the right band to welcome the mind-blowing space". The band performed all of Achtung Baby, their 1991 album, as well as sprinkling in some of their more recent hits. The 366-foot-tall spherical structure also hosts an array of LEDs in a display on its inside, and this was also put to good effect during the performance. U2 used this display to create visuals based on their music and its themes to create an immersive experience for the crowd in attendance. And it clearly worked, with many coming away from the show stunned by what they had witnessed. Alexis Petridis, in his review for The Guardian, described it as "astonishing" and "admirably raw" before giving it five stars. It's clear to see that both performer and venue were a perfect match and have plenty to give the Nevada music scene.
A Residency of Sorts and More Spheres to Come
The Irish band's Achtung Baby show in Vegas is something of a residency. It will continue until mid-December for a total of 29 shows. However, that does mean that the end of the year will bring with it the need for new acts to take to the stage at the nearly $3 billion venue. There will be an immersive, Darren Aronofsky-produced Postcard From Earth experience that will call the Sphere its home for a short while. But many will wonder when music will return to the stage and who will fill Bono's shoes. Currently, there is no solid information on who will fill the gap. Speculation will be rife as long as there is no verifiable news. What will be interesting, though, is whether the success of the venue will help encourage a London community to welcome their own Sphere.
Stratford has been earmarked for its own venue for some time. However, according to the London Evening Standard, locals have expressed concerns over the potential plans. They cited the mixed response that the intrusive visuals caused in Las Vegas and their desire to avoid erecting its own eyesore in London. This is a city not short of a skyline and not lacking in the music venue department. However, with the five-star reviews and excitement generated by U2 in the States might help sweeten some up to the idea of having a world-class venue on their doorstep. Who would have thought that an Irish band working for nearly 50 years would have such an influence?