Las Vegas Sphere – Change to the Skyline Gets Tongues Wagging
The world's eyes are often on the Nevada desert. Its crown jewel, Las Vegas, is one of the most famous cities in not only the USA but worldwide. Given that the sporting world seems to be descending on Sin City when Formula One hitches its wagon to the town and global soccer teams duke it out in the desert, 2023 is already one of the most talked about years in its history. In recent weeks, though, talk has been about what some believe to be a world record. Whether or not it actually is a record-setter, this new addition to the Las Vegas cityscape is as stunning as it is unusual. It looks set to usher in a new era of entertainment and excitement in the city, too.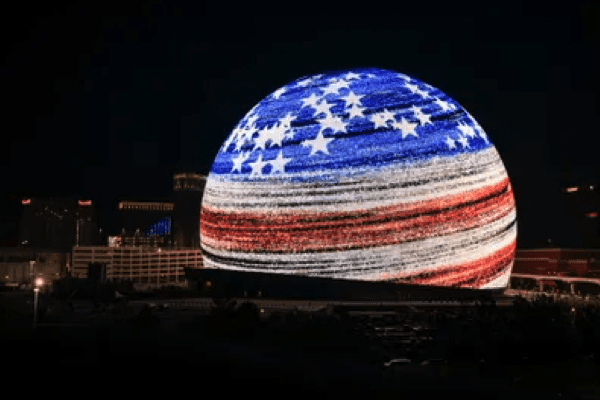 The World's Biggest Screen Lights Up the Desert
The Las Vegas Sphere has begun shining its dazzling light on the city around it. The $2 billion structure was used to create a stunning display in celebration of Independence Day in the States. The Guardian reports that it is the world's largest video display, cementing Vegas' reputation for excess and grandeur. The LED dome was used to project images of a number of quintessentially American things, including the Star Spangled Banner itself. This triumphant switch-on has sparked considerable excitement as the impressive structure completely dwarfs its immediate surroundings. The striking visuals on display and the sheer size of it have caused a social media frenzy, with many flocking to Twitter to express amazement – and perhaps even an element of bemusement.
As gimmicky as its current status might seem, the Sphere is about more than lighting up the Las Vegas skyline. As a multi-billion-dollar project, it needs to deliver so much more than a visual spectacle to represent a good return on investment. Instead, it was built to play host to some of the world's most prestigious acts in the entertainment industry. Its dimensions are so impressive that it seems fit to host only the best of the best. They are such that it is predicted to revolutionize entertainment in the city, according to Travel Weekly. At 366 feet tall and 516 feet wide, it's a mammoth of a building. But it's what it holds inside (and on its exterior) that really sets it apart from the crowd. It will be able to accommodate up to 20,000 revelers across seven floors, and they will be served by a display larger than three football fields, and more than 100,000 speakers that will ensure every visitor will get perfect audio. To top it all off, its exosphere – the display visible to everyone outside the venue – stands at a whopping 580,000 square feet.
The venue will be joined to the Venetian, ensuring that the east of the Strip has a premier venue to rival anything worldwide. It comes as Vegas casinos and resorts have made sweeping changes to the way they operate. Just recently, at Casinos Jungle, we reported that many operators are pivoting away from low-stakes, low-roller gambling. Instead, they are looking to capture the high-rollers and are using a number of tactics to do so. Firstly, they are shifting the odds in their own favor and increasing minimum stakes. However, another way that these casinos are looking to appeal to a higher-spending crowd is by offering a more all-encompassing experience. To that end, this brand-new world-class venue will be able to draw in a greater number of visitors. Already, it is set to host legendary Irish rock band U2 when it first opens in September. This will give that part of the city a much stronger draw than it already has.
A Packed Year for a New Venue and More to Come
Alongside the stage being graced by Bono, The Edge, and Adam Clayton, the massive dome will also play host to a show called Postcard From Earth. This is an immersive experience curated by the famed award-winning director of The Whale and Requiem for a Dream, Darren Aranofsky. It will reportedly allow viewers to experience traveling around the globe from the comfort of Las Vegas. And soon, that may be even possible in other parts of the world. Operators MSG are looking to build Spheres in a number of locations and, specifically, one is planned to be built in London shortly, with a site already being eyed up. All in all, it looks to be an exciting year for Vegas and fans of top-class entertainment.