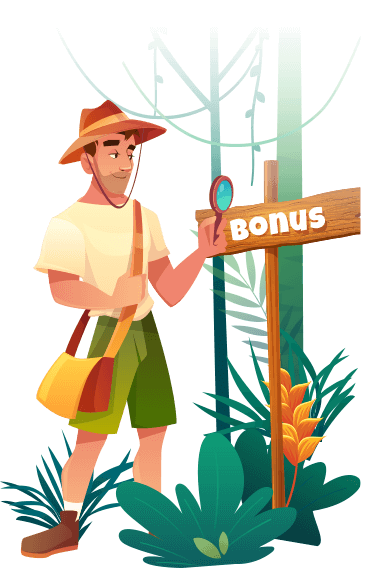 What is a no deposit bonus?
A no-deposit bonus gives new players a taste of a casino's slots and other games. Those who sign up with these online casinos can also take up the offer without any risks involved. So, in a way, it can be seen as test-driving a car that you'd like to buy.
You don't need to make a commitment of depositing a certain amount of money. It is just an opportunity for you to test out some of their games. Among the range of different titles, there will be the ones you're truly interested in playing. You, therefore, can utilize the bonus to try these games.
Once you've played them, you'll get to know which games excite you the most. Another important thing to remember is that some online casinos offer free spins instead of a certain amount of cash. You can use these free spins to try out many fantastic slot games in their collection.
How no-deposit bonuses work
A no-deposit bonus offered by an online casino works in a very simple way. All you need to do first is find a safe and reputed online casino with the most attractive no-deposit bonus offer. Next comes the process of registering on the casino's website. When you're done with the sign-up process, you'll receive the bonus amount once all the terms of the offer have been fulfilled.
Usually, the online casinos have these bonuses in a range of different amounts for the new players. The most common range is between $5 and $20. However, it's important to note that the no-deposit bonuses are not completely free. When you get this bonus after signing up with the casino, there are certain wagering requirements you need to fulfill.
Another thing worth noting is that you'll have limited choices in games with this offer. You'll only be able to play the games listed by the casino with the no-deposit bonus. You might receive some free spins upon registering with the casino. They can be utilized only on a few slot games, but usually have no wagering requirements.
Some casinos dole out free spins that must be exhausted within a certain amount of time. As soon as you receive your bonus, you're expected to stick to the time window determined by the casino. If you fail to adhere to this time window, the offer elapses. This is one of the brilliant strategies that the online casinos employ to increase their gains.
How you can benefit from a no-deposit bonus
As a new player, you might wonder how to make the most of your no-deposit bonus. Well, there are certain games that will help you clear your no-deposit bonus without making a deposit. Some games require you to make a deposit for clearing your bonus. In the world of online casinos, the best games for clearing a bonus is are slots. The exceptions here are the ones with progressive jackpots and high-variance.
Blackjack, roulette, computerized table games, and baccarat are some of the games that contribute between 10 and 20 percent towards clearing a no-deposit bonus. Video poker and a few other games contribute 5 percent. There's a maximum amount you can cash out in case of no-deposit bonuses.
In other words, this is a cap on the amount you can take out of your winnings. This is a means of protection that the casinos use to avoid losing too much money. Some of the online casinos have minimal limits on withdrawals. To avoid any disappointments, you must be aware of the maximum cash-out amount that the online casino offers.
Note the playthrough requirements of the casino. The no-deposit bonuses usually have lower playthrough requirements that prevent you from taking risks. Don't forget to check the restrictions that might've been placed on the games you can play with your no-deposit bonus. For example, the game of blackjack in an online casino might require you to play more amount of the bonus than you normally would.
What to look for in terms and conditions
Let's say you're looking forward to making some real money from your no-deposit bonus. In this case, you must pay attention to the conditions and limits associated with it. In an online casino, there are often some terms and conditions attached to such offerings. So, before registering on an online casino, make sure you go through the terms and conditions of its no-deposit bonus.
While reading the terms and conditions of the online casino, you might also come across more information on the process of verifying the bonus claims. One of the most important aspects to consider in terms and conditions is 'playthrough'. The wagering requirements in an online casino usually indicate the number of times you must bet from your bonus amount.
No Deposit Bonus Wagering
Unless you turn over the required bonus amount, you'll not be allowed to withdraw your winnings. The wagering requirements for the most attractive bonuses are also capped at a certain sum. You need to 'play through' a bonus amount a set number of times before you request a withdrawal.
There are many online casinos that ask players to wager through their no-deposit bonuses several times before withdrawing any amount they've won. Larger bets may be required than usual for bonuses that don't need a deposit. Risking a no-deposit bonus is fine as this is free money gifted to you by the online casino you've signed up with.
The online casinos often place some stringent limits on the amount of cash that can be taken through no-deposit bonuses. After you've fulfilled the wagering requirements, the maximum amount you can withdraw from a no-deposit bonus is the actual bonus sum. This would definitely upset you, especially after you accumulate substantial winnings. Nevertheless, all of the terms and conditions must be strictly followed.
How to calculate no-deposit bonus value and wagering requirements
You can differentiate between a profitable no-deposit bonus and a non-profitable one by calculating its value. Based on this, you can choose the bonus that gives you a maximum chance of cash-outs. To make the calculations, you'll require three values. They are the bonus amount (BA), wagering requirement (WR), and house edge of the game (HE). So, here's the calculation:
No-deposit bonus value = BA – (WR x HE)
We can understand this better with an example. Suppose you're claiming a no-deposit bonus of $5 with a wagering requirement of 20x the bonus amount. Your online casino allows you to utilize your bonus on a game with a house edge of 3%. Based on this, the value of no-deposit bonus will be calculated in this manner:
No-deposit bonus value = Bonus Amount (BA) – [(Wagering Requirement (WR) x House Edge (HE)]
= $5 – [(20 x $5) x 3%]
= $5 – ($100×3%)
= $5 – $3
= $2
Since the value of no-deposit bonus is a positive number, it is worth claiming. Now, if you get the value of this bonus as a negative number, it indicates that the no-deposit bonus is not profitable.
One of the values needed to calculate the value of a no-deposit bonus is the wagering requirement. Understanding its value is crucial in maximizing your profits from the no-deposit bonus you've received. Nearly all bonuses come with wagering requirements. They indicate the number of times you are required to wager the amount of your bonus before you can cash out the winnings.
An example here would help you understand the concept of bonus wagering requirements. Let's say you're claiming a no-deposit bonus of $10 with a wagering requirement of 20x. Now, you need to wager $10 twenty times ($200) before you can cash out your bonus winnings.
At this point, you might wonder if the wagering requirements apply to free spin bonuses as well. Yes, they certainly do. In this case, your online casino might consider your winnings from free spins as the bonus amount that has wagering requirements.
Suppose you claim a no-deposit free spin bonus of 10 free spins and won $10 by utilizing them. Your winnings of $10 are subject to wagering requirements of 20x. So, you need to wager $200 before you could cash out $10.
Are no-deposit bonuses worth it?
There's no straightforward answer to this question. Whether the players get to benefit from the no-deposit bonuses or not would depend on the casinos. Every individual wonders why the online casino is giving away money for free without winning any game. Well, the no-deposit bonuses are given to play games and not to withdraw your winnings.
When you're a new player and you want to learn how to play different kinds of games offered by the casino, this bonus can be extremely useful. However, if your intention is to make money by winning the games, it won't help you. To withdraw your winnings, you'll need to make a certain amount of deposit.
If an online casino does allow you to withdraw your winnings, it won't be an amount that would excite you. It'll rather be an insignificant one. After all, the main purpose of online casinos is to make profits and not to give away money for free. If you already know the games you want to play you can always skip past the non deposit bonus and pick up a match deposit bonus instead. This bonus will give you extra funds to play with and with less limits on your maximum cash out.