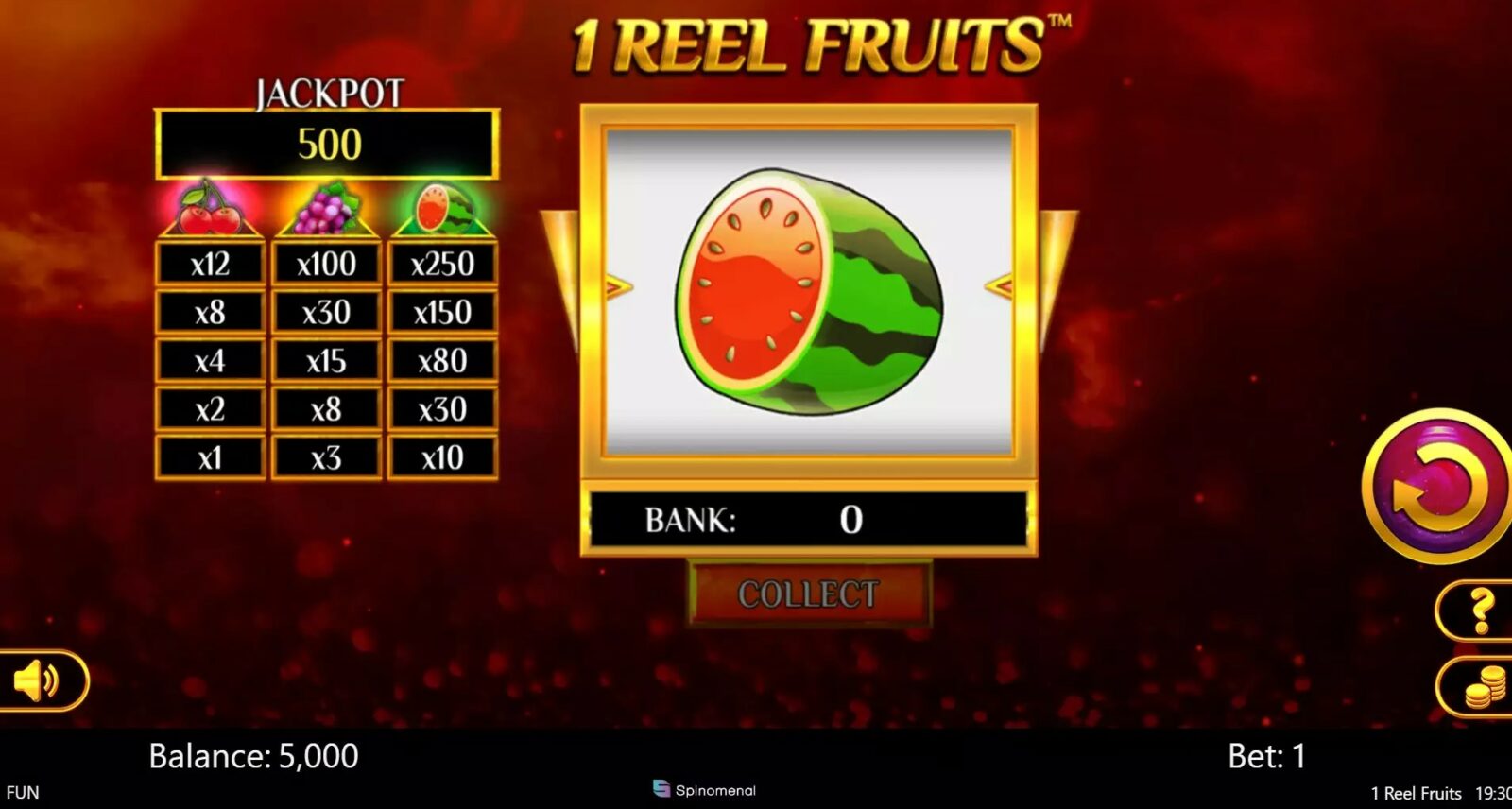 <p><iframe loading="lazy" src="https://cdn.spinomenal.com/krembo/external_components/index.html?partnerId=vulkan-vegas&amp;gameToken=d5dc8cf68297e5424691&amp;gameCode=Tower_1ReelFruits&amp;langCode=en_US&amp;platform=1&amp;environmentConfig=default_tower.json&amp;isReal=false&amp;srvUrl=https%3a%2f%2frgs-demo.spinomenal.com%2fapi&amp;perGameConfig=tower%2fTower_1ReelFruits.json&amp;rgsUrl=https%3a%2f%2frgs-demo.spinomenal.com%2fapi%2f" width="100%" height="550px"></iframe></p> <div class="wrap-game-cta" style="text-align:right;"><div class="cta btn-real-cash"><div class="btn-color-gradient"><a href="https://www.casinosjungle.com/go/bovada/" rel="nofollow" target="_blank"><span class="title luckiest">Play for real cash<span class="play"></span></span></a></div></div>
Game quick facts
RTP (payout percentage)
97.17%
Features
Collect Feature, Wild Symbol
Bonus Features / Jackpots
Collect feature
If you click the Spin button, the reel will spin and you'll receive a random symbol. Your bank will change, depending on what symbol you recieve of course (let's hope it's a high-paying one!). It can go up or down. It will increase with any fruit symbols or wild sevens. But it can also decrease all the way back to zero if you get the Reset Bank Symbol. If a fruit symbol appears, your bank will increase according to the paytable situated to the left of the reels. The Collect feature is ultimately a bankroll that you can collect at ANY time. All you have to do is press the collect button at the bottom of the reels. . Once you click on it, it transfers your winnings or the bank in this case to your balance. This will reset your progress.
Wild  Symbol
Getting Wild Sevens counts as landing all fruit symbols at once. It will progress you through the paytable in all possible ways. If you reach the final level with any fruit symbol, you'll have a chance to collect the jackpots. When the symbol re-appears, you'll receive the top value.
Games Theme
A single reel is located at the centre of the screen. To the right is a paytable indicating how much each symbol pays depending on the number of times you land on it. To the bottom, left are the spin, bank and help buttons. The collect button beneath the reel may be used to collect winnings at any time. In the background is a futuristic-looking graphic that syncs perfectly with the mellow music to bring a calming effect.
Symbols / Payouts
Cherries: 1/2/3/4/5 – x1/x2/x4/x8/x12
Grapes: 1/2/3/4/5 – x3/x8/x15/x30/x100
Watermelons: 1/2/3/4/5 –x10/x30/x80/x150/x250
Game tips / tricks
Landing on the Wild 7 counts as landing all three symbols so all bars will rise in this case. Players can collect their winnings at any time during play. Fill all three bars and you will win the jackpot amount of x500. The one symbol you do not want to see is the 'Reset Bank' symbol. This removes all progress on the bars and resets your balance to zero. Collecting your winnings using the collect button also resets the game. The bet amount can be changed when the balance is zero. The best way to play this slot is to cash out often before the Reset Bank button clears your balance.
Conclusion
A classic yet unique game is what best describes the 1 Reel Fruit slot game by Spinomenal. It is simple, easy to play and rewards hard work. You only need to cross your fingers and hope you will not land the 'Resent Bank' button. Is this not what the thrill in slots is all about? The thrill in not knowing what will happen next!
Where to play 1 Reel Fruits for real
Other games by Spinomenal