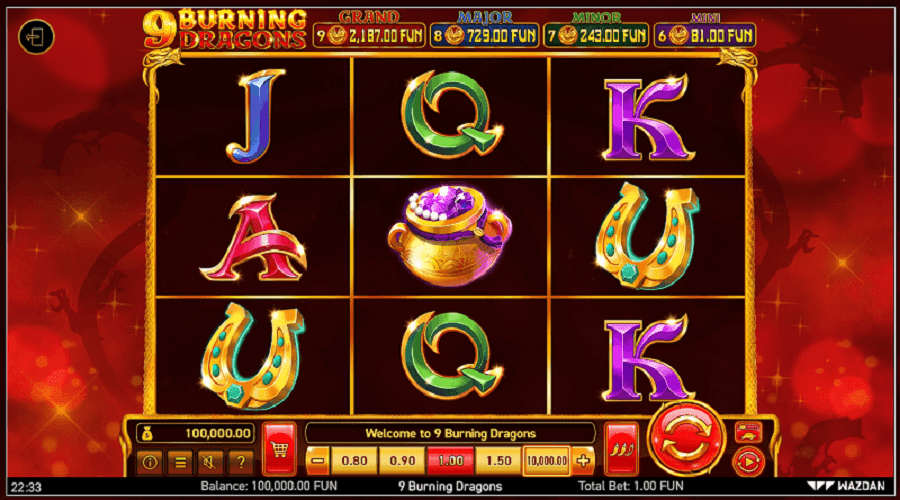 <p><iframe src="https://gamelaunch.wazdan.com/demo-demo/gamelauncher?lang=en&amp;mode=demo&amp;license=lp&amp;ebm=3&amp;game=65930&amp;drop=0&amp;help_url=https%3A%2F%2Fhelps.wazdan.com%2Fget.php&amp;drop_rules_url=https%3A%2F%2Fstatic.wazdanep.com%2Fgm%2Fcashdrop%2Fmax%2Fterms.php&amp;eu=https%3A%2F%2Fwazdan.com%2Fen%2Flp%2F9-burning-dragons" width="100%" height="550px"></iframe></p> <div class="wrap-game-cta in-game-wrap" style="text-align:right;"><div class="cta btn-real-cash"><div class="btn-color-gradient"><a href="https://www.casinosjungle.com/go/lucky-tiger/" rel="nofollow" target="_blank"><span class="title luckiest">Play for real cash<span class="play"></span></span></a></div></div>
Quick facts 9 Burning Dragons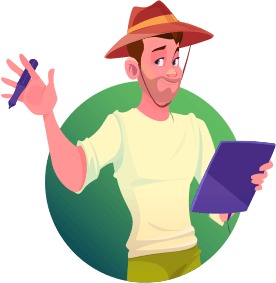 RTP (payout percentage)
96.12%
Features
Individual reels, repins, and wilds
Bonus Features / Jackpots 9 Burning Dragons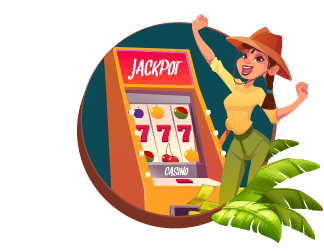 Individual reels
9 Burning Dragons have nine separate reels, which is an intriguing feature. Each one is given a symbol, and you get compensated anytime there are at least four matching spots among the utilised nine.
Wilds
A Wild in the game can only be coupled with other normal symbols to act as a replacement.
Respins
You will require three or more bonus symbols on the reels before activating the primary feature, Hold the Jackpot. After the triggering symbols are fixed in their positions, you can try three respins to add bonus symbols. The functionality expires if you receive three respins of blank spots.
Games Theme 9 Burning Dragons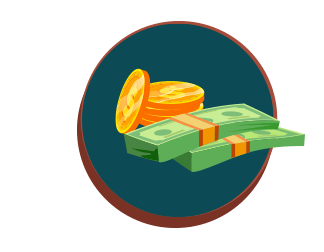 You might anticipate a slot machine with an East Asian look. It displays it through the symbols it employs and the colours it uses in its decorations. Chinese slots frequently have a dark crimson backdrop and a golden border around the reels.
The payout is awarded according to the number of bonus symbols gathered when the Hold the Jackpot bonus round comes to a close. You need to have at least six of those bonus symbols to receive a payoff in the form of a jackpot. The Grand Jackpot, the largest prize available from the 9 Burning Dragons slot, must appear nine times and fill the whole playing field to be won.
Symbols / Payouts 9 Burning Dragons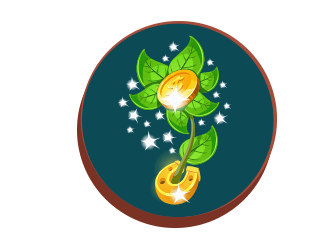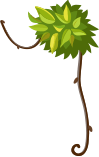 Golden hat: 9/8/7/6/5/4 = 200x, 40x, 15x, 8x, 4x, 2x
Horseshoe: 9/8/7/6/5/4 = 50x, 15x, 8x, 4x, 2.5x, 1.5x
Golden pot: 9/8/7/6/5/4 = 15x, 8x, 5x, 3x, 2x, 1x
A: 9/8/7/6/5/4 = 12x, 6x, 4x, 2.5x, 1.5x, 0.8x
K: 9/8/7/6/5/4 = 8x, 5x, 3x, 2x, 1.2x, 0.8x
Q: 9/8/7/6/5/4 = 6x, 4x, 2.5x, 1.5x, 0.8x, 0.5x
J: 9/8/7/6/5/4 = 4x, 3x, 2x, 1.2x, 0.8x, 0.5x
Conclusion
The slot machine 9 Burning Dragons is a respectable addition to Wazdan's collection, with thrilling jackpots, top-notch visuals, and intuitive user interfaces. With the chance to win more than 2,187 times your wager, you may play the game anywhere at any time on your phone's browser. To get the greatest experience, register with a reputable casino.
Where to play 9 Burning Dragons for real